Apple Store employee's kind gesture toward special-needs boy goes viral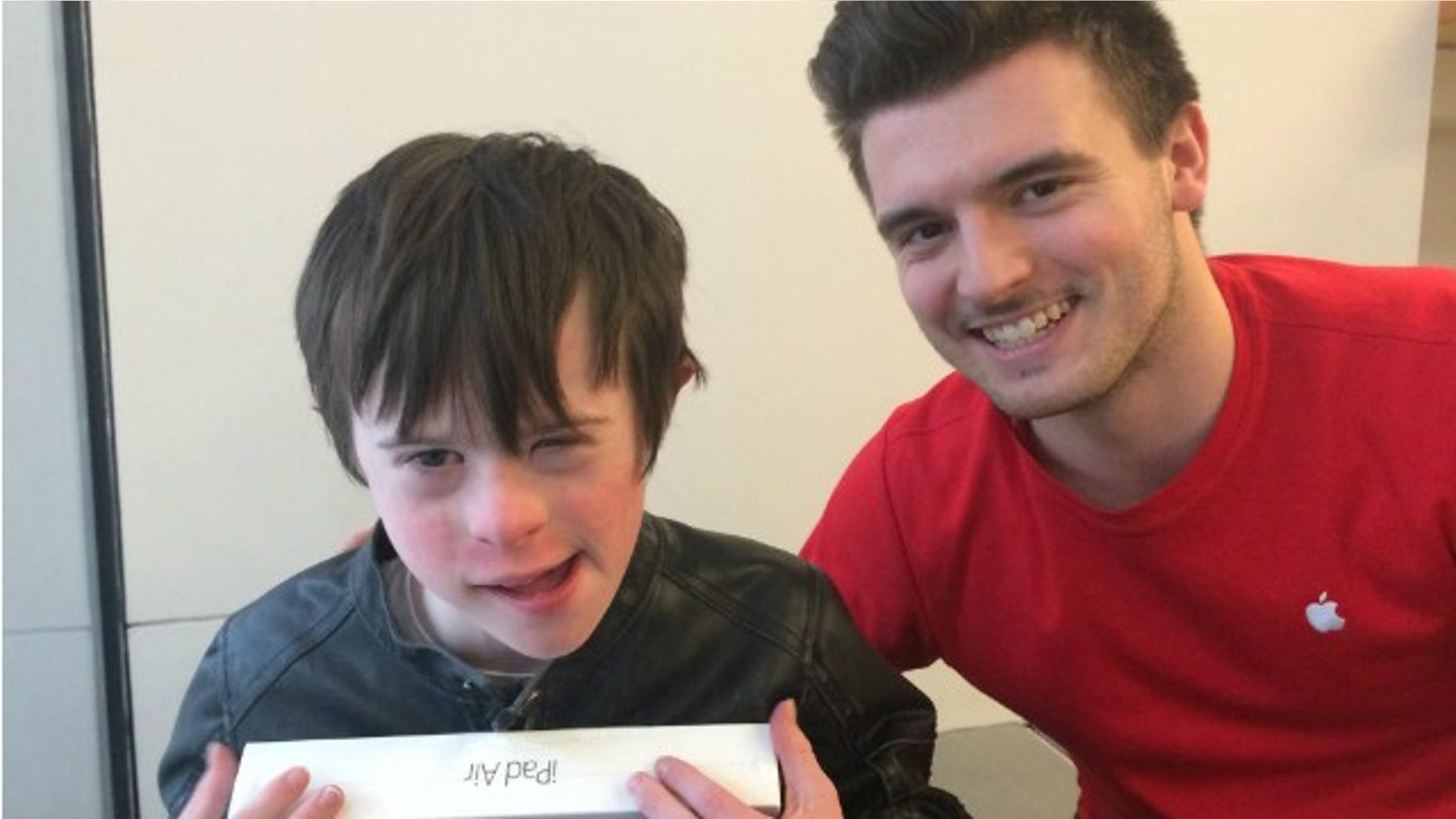 A Nashville-area Apple Store employee is receiving praise from across the United States after performing a good deed for a boy with special needs.
Nine-year-old James Rink, who has autism and Down syndrome, went into an Apple Store earlier this month in Green Hills, Tennessee, for a new iPad that a Texas-based nonprofit bought him for communication and learning, Fox Carolina reported. But in the store, Rink accidentally ran into a glass wall and fell on the floor.
That's when Andrew Wall, an employee at the store, walked over to make sure Rinkand his mother, LynneMarie Rink, were OK, and he sat on the floor with the boy to help him set up his new device.
"There are no words to accurately describe how grateful I am that [Wall] took the time to 'meet us right where we were,'" LynnMarie Rink Fox Carolina. "He didn't have to sit down on the floor with us. He could have easily waited for us to stand— could have easily waited for us to come back another day. But he hung out with us in the midst of our pain."
LynnMarie Rink wrote that James gave Wall a fist-bump to show his appreciation.
In a Facebook status posted Friday, Rink expressed her gratitude to Wall, whom she hadn't yet identified.
"Life is a learning journey," she wrote in the post, which had garnered over 25,000 likes, nearly 1,140 comments, and nearly 14,000 shares as of Wednesday morning. "And I walked away from this experience with the reminder to always meet people where they are at. It's so easy to be so focused on our own mission or plan (or sale) that we fail to see what people really need. I long to be better at this. I long to not be so self-absorbed that I never miss an opportunity to love exactly like someone needs in the moment."
And then this happened....Nashville Folks - can you help me find this guy on FB? Or do you know any big-wigs at Apple...

Posted by LynnMarie on Friday, January 22, 2016