Annual report sees adult obesity rates increase in 4 states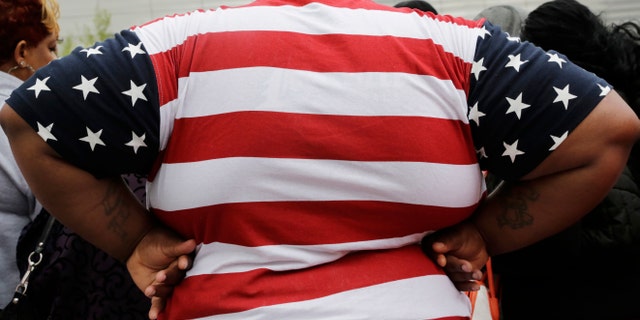 NEWYou can now listen to Fox News articles!
Despite obesity rates in American adults increasing in two states between 2014 and 2015, the period marked the first time in a decade that obesity rates decreased in four states. According to The State of Obesity: Better Policies for a Healthier America, Minnesota, Montana, New York and Ohio experienced a decrease in obesity.
The report also noted that Louisiana had the highest adult obesity rate at 36.2 percent, while Colorado tallied the lowest at 20.2 percent. Rates remained steady elsewhere aside from the previously mentioned four decreases and two increases, which occurred in Kansas and Kentucky. Overall, the report found that obesity rates now exceed 35 percent in four states, are at above 30 percent in 25 states, and are above 20 percent in all states.
"This year's State of Obesity report is an urgent call to action for government, industry, health care, schools, child care and families around the country to join in the effort to provide a brighter, healthier, future for our children," Risa Lavizzo-Mourey, president and CEO of Robert Wood Johnson Foundation, which helped produce the report, said in a news release.
"It focuses on important lessons and signs of progress, but those efforts must be significantly scaled to see a bigger turnaround," Lavizzo Mourey added.
For comparison, the report stated that in 1991, no state had an obesity rate above 20 percent. Nine out of the 11 states with the highest obesity rates were located in the South, and 22 of the 25 states with the highest rates of obesity are in the South and Midwest. The report also found obesity rates are at or above 40 percent for black adults in 14 states, and at or above 30 percent in 16 states for white adults. Obesity rates are at or above 30 percent for Latino adults in 29 states.
While the report suggests rates are still high for many states, it also noted that the rate of increase has been slowing. In 2005, 49 states saw an increase, while in 2014 only two states did. According to the report, the federal government has provided more than $90 million via 44 Health Food Financing Initiative awards in 29 states since 2011, helping leverage more than $1 billion and create 2,500 jobs. Farm-to-School programs now serve more than 42 percent of schools and 23.6 million children.
The report, produced by TFAH and the Robert Wood Johnson Foundation, analyzed the Centers for Disease Control and Prevention's Behavioral Risk Factor Surveillance System.