Alan Thicke's cause of death: Is hockey to blame?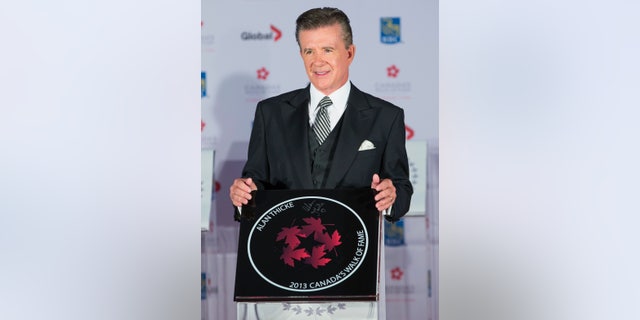 Authorities released actor Alan Thicke's official cause of death Wednesday, revealing the that the 69-year-old suffered a ruptured aorta and a standard type A aortic dissection. The Canadian native had been playing hockey with his youngest son, when he complained of chest pains, leaving some to question whether the sport contributed to his demise.
"People can have aortic dissections when they're at rest or when they're active," Dr. Jean Starr, a vascular surgeon at The Ohio State University Wexner Medical Center, told FoxNews.com. "They can happen at any time, any place, and they can be related to sudden increases in blood pressure or chronic high blood pressure."
Aortic dissections occur when there is a separation in the lining of the aorta, the body's main artery. Starr noted they can occur if an individual has a congenital problem, such as a connective tissue disorder, but that would likely have been diagnosed earlier in Thicke's life.
"Type A aortic dissections are surgical emergencies that require surgery very quickly and have a high rate of death," Starr said.
Aortic dissections occur most commonly in men ages 40 to 70 and occur in about two out of every 10,000 people, according to the U.S. National Library of Medicine. Actor John Ritter died from an aortic tear in 2003 at age 54.
"It's not unrecognized, but is rare enough that people don't hear about it until something like this happens," Starr said.
Aortic dissections are hard to prevent, she added, but controlling one's blood pressure is important.
Thicke was an avid, longtime hockey fan. In 1979, he recorded the hockey fighting parody song, "Hockey-Sock Rock" with former NHL players Ron Duguay, Dave Maloney and Phil Esposito.
"If a guy plays hockey every day of his life, [aortic dissection] was probably not the cause," Starr said. "Iif someone was not physically active and all of a sudden becomes physically active, that would theoretically increase their blood pressure and maybe cause this."