After wife's suicide, husband has moving message for new moms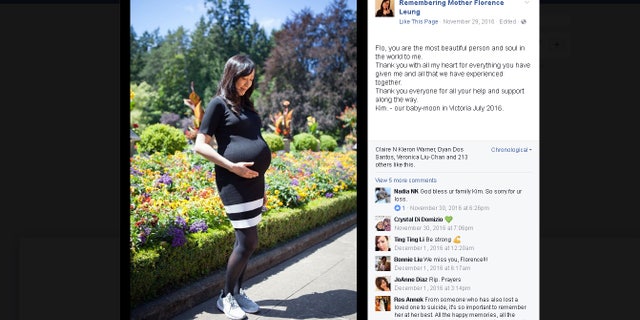 NEWYou can now listen to Fox News articles!
A grieving husband who lost his wife to an apparent suicide has made an emotional appeal to new moms facing postpartum depression. Florence Leung, 32, left her 2-month-old son in October and never came home, CBC reports.
Her body was found several weeks later. Now, husband Kim Chen is reaching out on a Facebook page dedicated to his wife. "For all the new moms experiencing low mood or anxiety, please seek help and talk about your feelings," he writes.
"You are Not alone. You are Not a bad mother." Days after Leung disappeared from her Vancouver home on Oct. 25 she was spotted on a surveillance video at a convenience store, per the Vancouver Sun.
Although her car was found in a park the day after she left home, her body was not found until Nov. 17 in the waters off Vancouver Island, per the Huffington Post.
Police don't suspect foul play. Chen says he and his wife were ecstatic to be parents and "everything was bliss." Then, he tells CBC, "there were challenges." His wife was anxious about breastfeeding and not sleeping well.
In his Facebook post, he urges new moms, "Do not EVER feel bad or guilty about not being able to 'exclusively breastfeed', even though you may feel the pressure to do… it is OK to supplement with formula." As many as one in five new mothers suffers from some form of post-natal depression, per CNN.
Although breastfeeding can halve the risk of mood and anxiety problems, the BBC reports, other research has shown a link between depression and mothers who have trouble breastfeeding.
(Postpartum depression can affect men, too.)
This article originally appeared on Newser: After Wife's Suicide, Husband Has Moving Message for New Moms