6 ways to make your hands look 10 years younger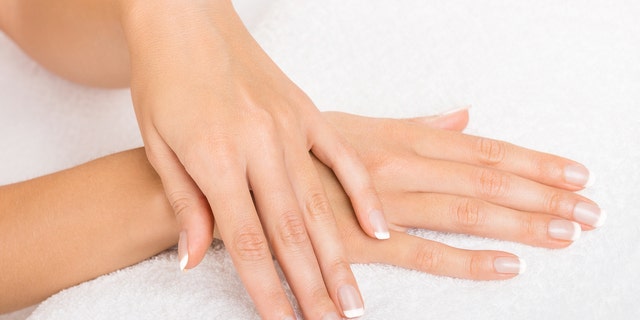 No matter how young you feel, your hands may look otherwise. The skin on your hands ages faster than other parts of the body because it's thin and often exposed to sun and abrasion. "The sun breaks down collagen in the hands, leaving them wrinkled and creating dark spots," says Francesca Fusco, MD, a dermatologist at Wexler Dermatology in Manhattan. "And we wash them constantly and some people Purell like crazy. They're exposed to detergents and chemicals all the time."
Even though we're rough on our hands, there's plenty you can do to keep them looking young. Try these six products below–they each have dermatologist-recommended ingredients to keep your hands soft, smooth, and ageless.
1. Skinceuticals Hydrating B5 Gel
Dr. Fusco recommends applying a serum with vitamins and hyaluronic acid to hands in the morning. "Hyaluronic acid is fabulous at plumping up skin," she says. This serum has the acid and vitamin B5 to help promote the skin's tissue repair process.
To buy: $82; bluemercury.com
RELATED: 10 Anti-Aging Products Women Swear By Outside of the U.S.
2. Origins Antioxidant Moisturizer with White Tea
"Antioxidants fight off and neutralize free radicals that damage the cells," says Bruce Katz, MD, a dermatologist at JUVA Skin and Laser Center in Manhattan. So look for a morning moisturizer with antioxidants like vitamin C or green or white tea in them. Apply in the morning after serum.
To buy: $44; origins.com
3. Elizabeth Arden Prevage Anti-Aging Moisture Lotion Broad Spectrum Sunscreen SPF 30
Sunscreen prevents further aging of your hands, so it's super important to put it on every morning after your skincare routine, and reapply if you're swimming/working out. Make sure your sunscreen is at least SPF 30, says Dr. Katz. This one features moisturizing shea butter and fights environmental skin stressors.
To buy: $129; dermstore.com
RELATED: The 27 Best Anti-Aging Tips of All Time
4. Dermalogica AGE Smart Multivitamin Hand and Nail Treatment
Both Dr. Fusco and Dr. Katz recommended using a product with retinol in it at night. "Retinol acids offer great anti-aging benefits by improving blood supply to the skin and stimulating collagen production to turn back time," says Katz. In addition to retinol, this non-greasy hand cream contains other anti-aging ingredients including hyaluronic acid and vitamin C. Dr. Fusco also recommends her patients try the prescription-strength SkinBetter Science AlphaRet Overnight Face Cream (it's meant for the face, but works on hands too).
To buy: $9; dermstore.com
5. Kate Somerville Deep Tissue Repair Cream with Peptide K8
Katz recommends using a peptide every other night instead of a retinol. "Peptides help treat aging skin and slow down the aging process," says Katz. Try this rejuvenating cream to moisturize and repair skin all night.
To buy: $150; sephora.com
6. Kiehl's Richly Hydrating Scented Hand Cream
Keep hands moisturized during the day— which is important for keeping hands looking young—or apply before bed for even more hydration. This cream is made with vitamin E and shea butter, and comes in grapefruit, coriander, and lavender scents.
To buy: $15; kiehls.com