23-year-old profits off questionable waist trainers promoted by Kylie Jenner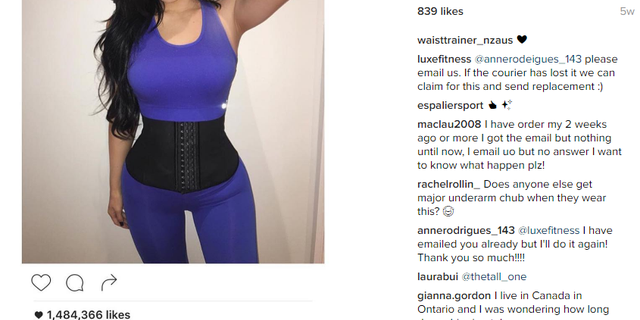 A New Zealand woman says she's on the verge of building a multimillion-dollar business that sells waist trainers— garments that claim to help women achieve an hourglass shape, and of which reality TV star Kylie Jenner is a fan.
Although the risks and questionable efficacy of waist trainers have been largely reported, Iyia Liu, 23, raked in about $2.9 million in 2015 by selling the garments through her company Waist Trainer New Zealand Australia, the Sun reported. Liu reportedly imports corsets for the garments from China and had only $3,800 when she started the business.
On Instagram, 19-year-old Jenner has promoted one of Liu's products, calling them a favorite.
"I love sharing my beauty secrets with you guys," Jenner wrote in a post. "@waisttrainer_nzaus helped to maintain and accentuate my curves and is one of the best quality waist trainers I have used."
Jenner's older sister Kim Kardashian has also used social media to promote waist trainers, but experts say the garments don't do anything to accentuate the waist but may pose health risks.
"Medically, it doesn't make sense that cinching your waist tightly will make it permanently smaller," Dr. Mary Jane Minkin, clinical professor of ob-gyn at Yale School of Medicine, told Women's Health magazine. "Once you take the garment off, your body will return to its usual shape."
"It's also uncomfortable, restricts your movements, and," Minkin added, "if you wear it really tight, it can even make it difficult to breathe and theoretically could cause rib damage."
Jenner's much-coveted appearance has stirred controversy before. In 2015, teens suffered swollen, bruised and scarred lips after participating in an online cup-sucking competition dubbed "The Kylie Jenner Challenge," wherein participants vied to emulate the "Keeping Up with the Kardashian" star's plump pout. After long skirting the truth, Jenner admitted on the reality TV show in 2015 that she used temporary lip fillers.
Liu, who reportedly made nearly $674,000 in profits from selling waist trainers last year, told the Sun she was surprised at her business' success.
"I thought I'd just sell a few," the entrepreneur told the New Zealand Herald, according to the Sun.