20-year-old hiker died of altitude sickness, mom says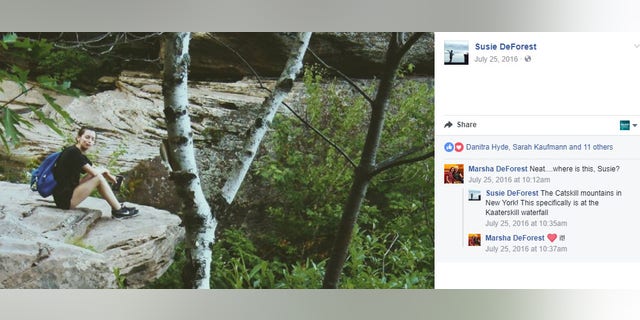 A Pennsylvania woman who died while hiking in Colorado with three friends was killed by altitude sickness, her mother said. Susanna "Susie" DeForest, of Collegeville, was hiking to Conundrum Hot Springs last Thursday when she fell ill, according to The Times Herald News.
The group had the proper gear, water and food and were preparing to spend the night at the hot springs and hike out on Friday, according to the Post Independent. Two members of the group set out for help late Thursday after DeForest began vomiting, and were able to notify emergency dispatchers at 10:45 p.m., according to Pitkin County Sheriff's Deputy Anthony Todaro.
DIABETIC WOMAN ON TOUR OF MEXICO DIES FROM FOOD POISONING, FAMILY SAYS
A rescue crew set out on foot, while two helicopter services were dispatched to the area. The first helicopter was unable to land, and by the time the second one reached the group's camp DeForest had died, The Times Herald News reported.
"Dear Friends, many of you already know this, but on Friday, we lost our daughter Susie DeForest," Kate DeForest, the woman's mother, posted Tuesday on Facebook. "She was hiking in Colorado and suffered acute altitude sickness. Her friends who were with her did all they could to get help to her in time."
The grieving family is headed to see DeForest in Colorado, with a memorial service scheduled in Pennsylvania on Sunday.
"Thank you for your prayers, we are devastated and grieving but relying on the Peace of Christ and all the prayers," Kate DeForest posted.
10-YEAR-OLD HELPS DELIVER BABY BROTHER, SAVE MOM'S LIFE
DeForest had no prior medical conditions, and there was no sign of drug or alcohol abuse, the Post Independent reported. Pennsylvania College of Art & Design in Lancaster said the school was heartbroken over the former student's death.
DeForest was studying graphic design at the school, and had made dean's list during the spring 2017 semester, but elected not to enroll in classes this fall, The Times Herald News reported.