14 foods under 40 calories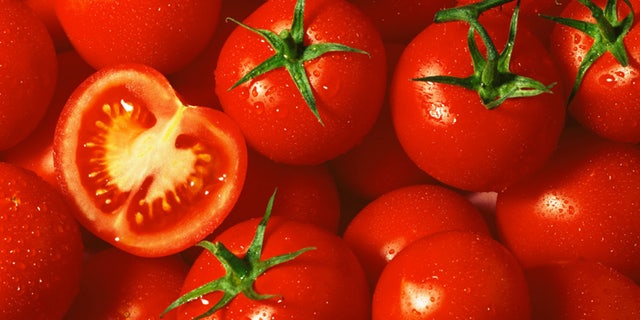 Have you ever heard the theory that certain foods have a negative caloric effect, meaning they burn more calories during the digestive process than they contribute? (Celery and apples are often cited as examples.)
Turns out the negative calorie theory is a myth. But that doesn't mean some foods aren't incredibly low-calorie and super-nutritious. Here's a list of our favorite almost-zero-calorie foods.
1. Arugula
Calories: 4 per cup
This delicate, peppery green is amazingly low in everything you don't want, especially calories, fat, saturated fat, and cholesterol. It is, however, loaded with crunch and packed with fiber, vitamins A, C and K, and other nutrients, including potassium.
Perfect in salads, soups, or anywhere you would use leafy greens, arugula may even boost your romantic life! Evidence suggests that the minerals and antioxidants packed into dark, leafy greens are essential for our sexual health because they help block absorption of toxins that dampen the libido.
2. Asparagus
Calories: 27 per cup
Asparagus is traditionally known as a detoxifying food, because it contains high levels of an amino acid that acts as a diuretic, flushing excess fluid out of your system. It also helps speed the metabolism of alcohol and other toxins (it's a surprising hangover remedy).
Asparagus is also a powerhouse of vitamins and minerals, including vitamins A, C, E, and K, B6, folate, iron, copper, and even protein. We love the tender shoots in their most natural form, raw and tossed into salads, or steamed.
_______________________________________________
More From Health.com:
25 Ways to Cut 500 Calories a Day
31 Superfood Secrets for Longevity
The Top Fat-Burning Foods
_________________________________________________
3. Broccoli
Calories: 31 per cup
Broccoli is amazingly low in calories, but it always makes our list of the top superfoods for a reason. Not only is it packed with fiber, vitamins, and minerals, it contains powerful antioxidants that may improve your odds of breast cancer survival and reduce the risk of colon cancer.
The chemical in broccoli responsible for the protective effect is called sulforaphane, and yes, it gives broccoli its slightly bitter flavor.
4. Broth
Calories: 10 per cup
Clear beef, chicken, miso, seafood, or vegetable broth is a dieter's secret weapon, nourishing and filling your body for almost zero calories, especially if you toss in leafy greens and lean meat. Broth is the ultimate "high volume food," meaning you can eat large amounts for very few calories and still feel full. It all comes down to calories per bite, or in this case, slurp.
"By choosing foods that have fewer calories per bite, your portion size grows, but your overall calorie count decreases," explains Barbara Rolls, the creator of Volumetrics and author of the new book The Ultimate Volumetrics Diet. "So you end up with a satisfying amount of food."
The bad: This food is very high in sodium.
5. Brussel sprouts
Calories: 38 per cup
Brussels sprouts are super-low in calories but loaded with cancer-preventing phytonutrients and fiber. These veggies, sometimes called little cabbages, get a bad rap, but they taste great with a sweet or tangy sauce.
6. Cabbage
Calories: 22 per cup
Crunchy, sweet, and affordable! How can a food that is so humble, with so few calories, be so incredibly good for you? Cabbage packs vitamins, minerals, fibers, and several phytonutrients thought to prevent cancer. Glucosinolate is a metabolic detoxifier and sulphoraphane is a powerful anti-carcinogenic.
Purple cabbage also contains anthocyanins and other natural chemicals that boost cellular repair and block cancer growth. Eat up!
7. Lettuce
Calories: 5 per cup
You can literally eat pounds of any variety of lettuce and never gain an ounce. Romaine lettuce alone is a great source of B vitamins, folic acid, and manganese, which helps regulate blood sugar and is essential for proper immune system function.
Choose other dark green or purple varieties such as green or red leaf for the most nutrients, and toss with a zesty homemade vinaigrette.
8. Beets
Calories: 37 per 1/2 cup
Beets are sweet but have very few calories—so you can have something sweet without the guilt. They also are rich in cancer-fighting antioxidants.
Beyond their rich, earthy deliciousness, beets are also a nutritional powerhouse. Rich in iron, fiber, folate, and potassium, they're an excellent way to boost the nutrition in a salad or pasta dish. They get their gorgeous color from betanin, a potent antioxidant.
9. Cauliflower
Like other cruciferous veggies, cauliflower is full of cancer-fighting phytonutrients and is a great source of vitamin C and folate. Nibble on raw or lightly steamed florets to maximize cauliflower's nutritional power. Cauliflower is one of the top superfoods that may improve your odds for breast cancer survival.
10. Coffee
Calories: zero
Black coffee is one of the lowest-calorie drink choices around, and it's a great weight loss ally. Coffee alters levels of gut peptides, the hormones naturally released to control hunger or fullness.
Coffee drinkers may be at lower risk of liver and colon cancer, type 2 diabetes, and Parkinson's disease, and it may help you live longer: A 2008 study found that women who drank coffee regularly—up to six cups a day—were less likely to die of various causes during the study than their non-coffee-drinking counterparts.
What's more, the caffeine in coffee can speed up metabolism and fat-burning, which helps lower your risk of type 2 diabetes and obesity.
11. Grapefruit
Calories: 39 per half fruit
Remember the Grapefruit Diet? There may be something to that. Studies reveal that, on average, women who consumed any amount of grapefruit or grapefruit juice weighed nearly 10 pounds less and had a 6 percent lower body mass index (BMI) than their non-grapefruit-eating counterparts.
A powerhouse for heart health, grapefruit contains vitamin C, folic acid, and potassium, along with pectin, a soluble fiber that may be a strong ally against atherosclerosis. Pink and red varieties also have vitamin A and lycopene, a phytochemical that protects arterial walls from oxidative damage.
12. Mushrooms
Calories: 15 per cup
Meaty and incredibly low-cal, mushrooms are also incredibly diverse. White button, Portobello, shiitake, and Maitake are just a few of the varieties you'll find in your grocery store. Fortunately, just about all mushrooms contain some form of immune-boosting antioxidants, along with potassium, B vitamins, and fiber.
Shiitakes, for example, contain lentinan, a nutrient that is thought to have anticancer properties. All mushrooms are good sources of vitamin D, thiamin, riboflavin, niacin, vitamin B6, pantothenic acid, phosphorus, potassium, copper and selenium.
13. Tomatoes
Calories: 22 per medium tomato
They contain lycopene, an antioxidant rarely found in other foods. Studies suggest that it could protect the skin against harmful UV rays, prevent certain cancers, and lower cholesterol. Plus, tomatoes contain high amounts of potassium, fiber, and vitamin C.
14. Turnips
Calories: 36 per cup
The potato's skinnier cousin, turnips are a great source of fiber and vitamin C, and have a low glycemic load. We love them diced and tossed into soups or stews, or sliced raw and used in crudite (they taste surprisingly mild and crunchy!).
Click here for more foods under 40 calories from Health.com.