12-year-old drives to safety after dad suffers seizure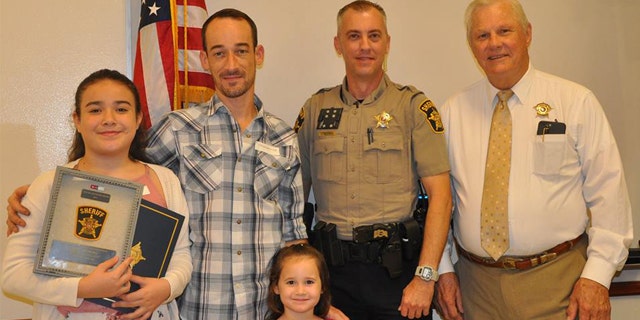 A 12-year-old girl's heroic actions were honored by her local sheriff's department after she calmly called 911 to report her father had a seizure while driving. Kassidy Gill, who was traveling with dad Christopher and her 4-year-old sister on July 28, made the call and took control of the car to lead her family to safety, Fox 7 Austin reported.
"He told me he was dizzy and he said that's what happened before all his other seizures," Kassidy told the news outlet. "He said to grab the wheel and find the nearest place to stop."
TEEN WITH 'RAPUNZEL SYNDROME' DIES FROM EATING HER OWN HAIR
Bastrop County Sheriff's Deputy Dave Newman found the trio in somebody's yard next to a religious statue. Kassidy said her focus was to find a place to stop and then try to revive her father.
"It looked like some kind of divine intervention because the tracks, it's one thing to see a field and for her to drive into it safely, but with the inertia of the car moving toward solid structures -- a tree, a house and narrowly miss all those and watch the tracks come to a stop right there next to the statue is quite amazing," Newman told Fox 7 Austin.
BABY BORN 4 MONTHS PREMATURE READY TO HEAD HOME
The Bastrop County Sheriff's Office presented Kassidy with "The Civilian Life-Saving Award," and gave her sister an award for bravery.
"[Kassidy] deserves it, she deserves every bit of it," Christopher Gill, who said he is no longer driving until he finds the root cause of his seizures, told Fox 7 Austin.