Yosemite closures due to Ferguson fire come at height of tourist season
Yosemite National Park has announced that large areas of the park will be closed off as during the near-height of the visitor season due to "ongoing impacts" from the Ferguson fire.
The National Park Service (NPS) posted the news Tuesday, confirming that both the Yosemite Valley and Wawona — which comprise of nearly 8,000 acres — would be closed to visitors as of 12 p.m. on Wednesday, July 25. Any visitors already in the areas will also be asked to leave.
"These closures include all hotels, campgrounds, and visitor services in Yosemite Valley and Wawona," NPS's message stated. "Park visitors currently staying in park campgrounds and lodging facilities are asked to be out of these areas by Noon tomorrow."
OREGON HIKER REUNITES GIRL WITH LOST STUFFED ANIMAL
Yosemite officials say Yosemite Valley and Wawona are expected to remain closed until July 29.
The closures also come during the park's second-busiest month for tourists (after August), with nearly 600,000 visiting the park throughout the June, USA Today reports. The outlet further reported that closures will the plans of "hundreds of thousands" of tourists, and cost nearby hospitality workers significant portions of their revenue.
"I'm going to lose $20,000 and that's money I'll never see again," said Ron Skelton, the owner of the Yosemite Blue Butterfly Inn, to USA Today. "We're completely shut down."
WHY ROB DECKER IS ON A MISSION TO PHOTOGRAPH EVERY NATIONAL PARK
News of the closures follows similar precautionary measures taken in other areas of the park, including the closure of roads, the Bridalveil Creek Campground, the Wawona Campground and the Merced Grove of Giant Sequoias, which are all off-limits to visitors due to the fire, or to aid with firefighting operations.
Officials had earlier said Yosemite wasn't under imminent danger from the fire; authorities decided on the closure to allow crews to perform protective measures such as burning away brush along roadways without having to deal with traffic in the park.
The park, however, had previously put out an alert for visitors, warning of smoky conditions including poor air quality and poor visibility.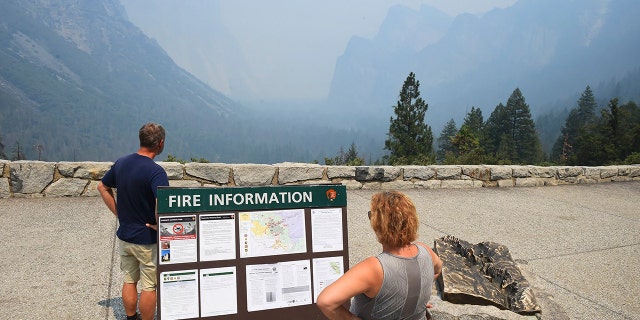 The Ferguson fire has raged for nearly two weeks, burning through over 57 square miles (148 square kilometers) of woods in the Sierra Nevada just west of the park. The fire was just 25 percent contained as of Tuesday.
FOLLOW US ON FACEBOOK FOR MORE FOX LIFESTYLE NEWS
The Associated Press contributed to this report.