Women's Perspectives of the NRA Convention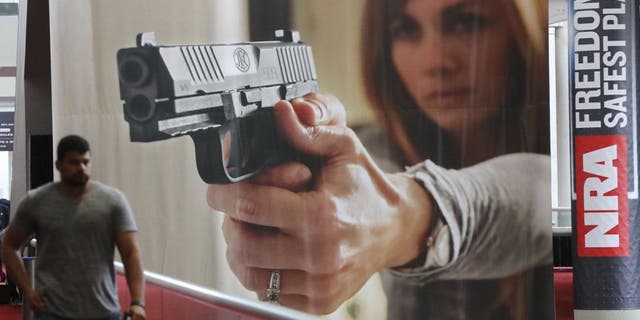 Tens of thousands of people attended the NRA's annual convention held in Atlanta, Georgia this year, and women represented a small but enthusiastic percentage of that crowd.
This story from the Portland Press Herald says that, by and large, their support for President Donald Trump, the event's keynote speaker, is unwavering.
"Look at what he's putting his family through for us," said Anne Jansen, an artist selling jewelry handcrafted out of bullet casings and shotgun shells. "I've always liked him. Just knowing he's here makes me feel good."
In this piece from CNN, Moni Basu, a native of India, explored the NRA convention and talked to various attendees.
"I'm 5 feet tall and 100 pounds," said Chloe Morris, a 35-year-old daughter of Filipino parents. "I cannot wait for a cop to come save me when I am threatened with rape or death."
Morris told Basu in the story she was initially "extremely opposed" to firearms, but when her friend was assaulted in her own home a few years ago in an upscale Atlanta subdivision, she changed her mind.
The story says she took shooting classes and became a Glock instructor. "I teach for free. I want women to be safe. I own 10 guns. I have a 14-year-old son. I started teaching him to shoot when he was 5. I'm a lifetime member of the NRA."
From the Portland Press Herald story:
"They couldn't be happier with Trump, these women said in nearly two dozen interviews. Even if they felt uncomfortable at first with the president's attitude toward women after a race in which he was accused of being a sexual predator, even if they didn't support him in the GOP primary, they've spent the past 100 days developing a profound sense of loyalty to him."
"I'm ready for that wall to be built," said Patricia Valentine, 67, who was waiting in line Friday to hear Trump's speech, referring to Trump's promise to build a wall between the United States and Mexico. "I'm ready for him to cut taxes on business. I think the Ninth Circuit Court, he needs to split those people up, move them around and get what he wants—what we want."
Not every woman at the convention felt the same way about the president.
"I would have liked to have seen somebody different," said Meredith Lafavor, 41, who said she voted for Trump because of her opposition to Hillary Clinton and abortion rights. "I just didn't think Trump would make it."
Lafavor works as the financial manager for a local chain of gun ranges which draw a lot of women, she said in the story.
"This is a man's playground," she said in the story, referring to the convention hall. "This is Disney World for men…It's comfortable, familiar for me, personally. But most women, not so much."