Wisconsin issues 10 hunting licenses to children under the age of 1
Wisconsin's Department of Natural Resources has issued 10 hunting licenses to children under the age of 1 in the weeks following the state's new regulations concerning mentored hunts, the agency reports.
DOG ACCIDENTALLY SHOOTS MAN AFTER ANOTHER HUNTER LEAVES SHOTGUN UNATTENDED
Earlier this month, Wisconsin Governor Scott Walker signed a law eliminating the age restriction on mentored hunts, meaning that children of any age would be allowed to accompany a licensed hunter in the field, as well as carry their own weapon.
Previously, a child in Wisconsin needed to be 12 to be issued a hunting license, and mentored hunts — wherein the protégée would carry his/her own rifle — were limited to those 10 and up.
In addition to the 10 mentored-hunt licenses issued to those under 1 year of age, Wisconsin's DNR has also issued 52 other licenses to children under the age of 5, the Associated Press reports. In total, 1,814 licenses have been issued to children under 10, although the majority — 1,011 — went to 9-year-olds.
6-YEAR-OLD BAGS 6-POINT DEER UNDER WISONSIN'S NEW LAW
On Nov. 17, 6-year-old Lexie Harris became one of the first and youngest hunters in Wisconsin to bag a deer during a mentored hunt under the new law. Her father, Tyler, said he had been taking Lexie on his deer hunts since she was 3, but never before was she allowed to actually carry a weapon and kill one.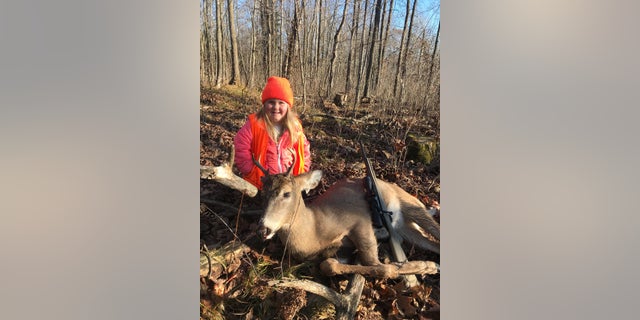 The Chicago Tribune further reports that, so far, a 4-year-old was the youngest Wisconsin resident to register a kill since the new law took effect, though data doesn't show who actually pulled the trigger. In other words, it's possible another hunter killed the deer, and simply registered it in the child's name.
FOLLOW US ON FACEBOOK FOR MORE FOX LIFESTYLE NEWS
Overall, the sale of hunting licenses in Wisconsin is down since 2016, with 1.7 percent fewer residents registering for hunting licenses than during a corresponding period last year.