Tiger shark devours tuna off fishermen's line, leaves only 'the head, the spine and the tail'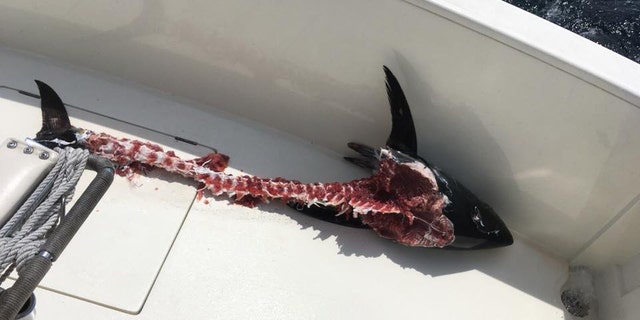 A group of fishermen off the coast of New Jersey reeled in a pretty remarkable tuna earlier this week — well, part of it, anyway.
Dave Bender, of captain of the Jenny Lee Sportfishing charter boat, tells Fox News he out on the water with a group of regulars from Staten Island when the fishermen snagged a big tuna.
MILLION-DOLLAR FISHING BOAT SINKS AFTER SLAMMING INTO SHRIMPING BOAT DURING TOURNAMENT
"We were trolling, about 70 miles from Manasquan Inlet, for Bluefin tuna, and we hooked a very nice fish," Bender told Fox News. "We didn't see him, but we couldn't gain much on him."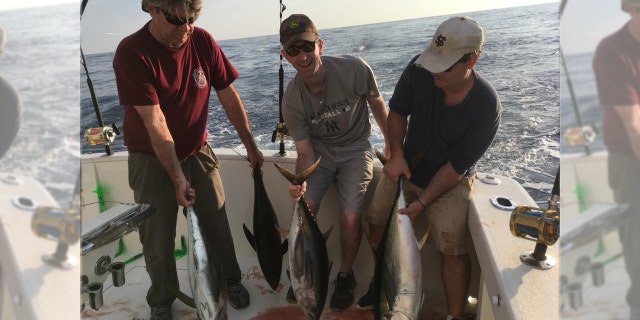 After what Bender estimated to be 40 minutes, the fishermen "finally started to get close," as the tuna seemingly stopped putting up a fight.
At first, Bender assumed the fish had been tail-wrapped — i.e., caught in such a way that its tail was tangled in the fishing line, leaving it unable to resist — but the anglers soon learned the truth when their catch got closer.
"[It] gets about 75 feet from the boat, it's very obvious, we see just the head, the spine and the tail, and the tiger shark swimming right to the boat," said Bender, who estimated the tiger shark to weigh around 400 pounds.
"So that thing came in … it was like that old cartoon, when the cat gets the fish and [strips it clean]," he tells Fox. "It looked like the logo for the Bonefish Grill."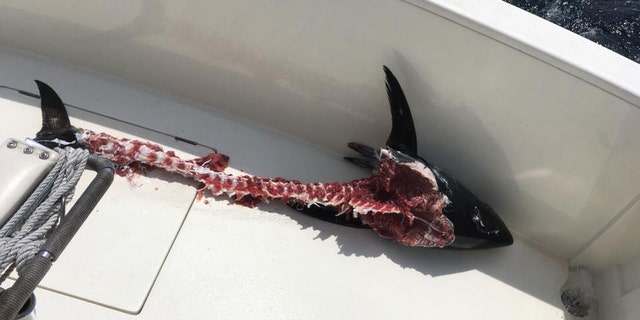 WATCH: FISHERMEN WRESTLE GREAT WHITE SHARK FOR STRIPER
Once the tuna was on the boat, the fishermen measured it at 68 inches — leaving them to assume it once weighed a whopping 160 and 200 pounds. The remnants, however, weight in at only 25, the charter boat company wrote on Facebook.
The fun didn't end there, though. The men kept fishing, only to catch two more sharks — a brown shark and a dusky — over the next few hours, leading them to believe multiple sharks were to blame for their bony Bluefin they reeled in earlier.
Once the anglers came to that realization, it was about all they could take.
FOLLOW US ON FACEBOOK FOR MORE FOX LIFESTYLE NEWS
"[Before we caught] the second shark, I turned to my co-captain," Bender tells Fox News. "I said, 'If this is a shark, we're f---ing out of here.' And sure enough — shark."