Texas woman reels in 7-foot shark: 'Thank God for CrossFit'
Lauren Biggers reeled in a nearly 7-foot blacktip shark off Surfside Beach in Texas over the weekend — a feat she says wouldn't have been possible without her CrossFit training.
The Conroe, Texas, resident was celebrating her husband's 30th birthday with some fishing Saturday. She decided to stay behind as he and his friends took their boats out, dropping bait along the way.
"We were in the water and I was keeping an eye on the lines while we were hanging out. I saw one get a bite so I got out and as soon as I did the other pole went off," Biggers told Fox News.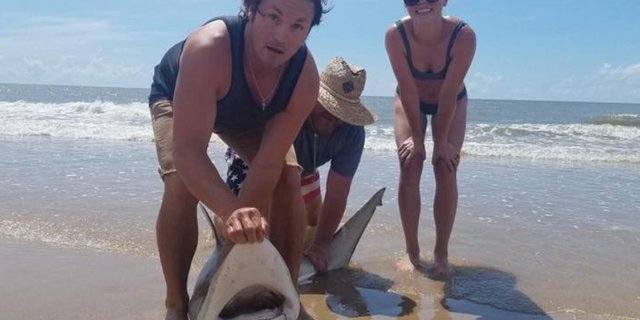 As soon as she heard the drag on one of the fishing reels go off, Biggers knew "it was something big."
20-FOOT SHARK SURPRISES COAST GUARD CREW OFF MAINE COAST: 'IT'S REAL LIFE JAWS'
After a nearly 2-hour fight — and some help from the current, Biggers was able to pull the shark to shore as a crowd of beachgoers gathered around her.
"I do think that doing CrossFit helped me, I don't think I could have reeled a shark that weighed more than me in without it," Biggers added. "It was the most incredible feeling once I finally got him to shore because in my head I kept wondering if I'd be able to do it alone, but I wanted to be the one who got him there."
Once Biggers got the shark to shore, Christian Brantley, who was eating at a restaurant nearby, ran over to help her pull it up onto the beach.
GREAT WHITE SHARK SURPRISES NEW JERSEY FISHERMEN: 'THIS IS CRAZY'
"I couldn't have done it without his help," Biggers said.
Biggers posed for some pictures with the shark, which she believes could have been a record catch for Surfside Beach, before releasing it back into the ocean.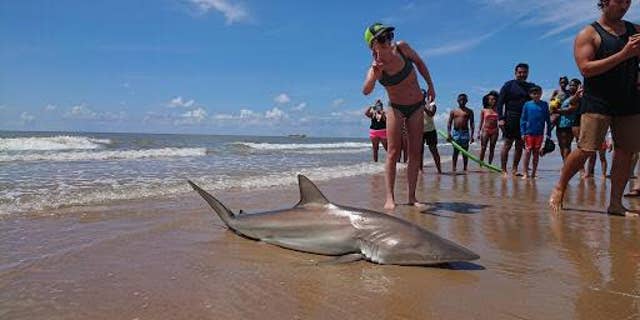 "We were more concerned with getting him safely back in the water, unharmed so we didn't get a precise measurement," she clarified.
Biggers said her husband missed her epic catch, but he was able to relive the moment through photos and videos.
"He thought it was awesome! He's a big fisherman so we had been talking about it all week ... He just thought it would be him doing the catching," Biggers joked, adding that everyone has now been calling her "shark girl."