Minnesota anglers charged for catching 253 fish over legal limit: They 'were biting good'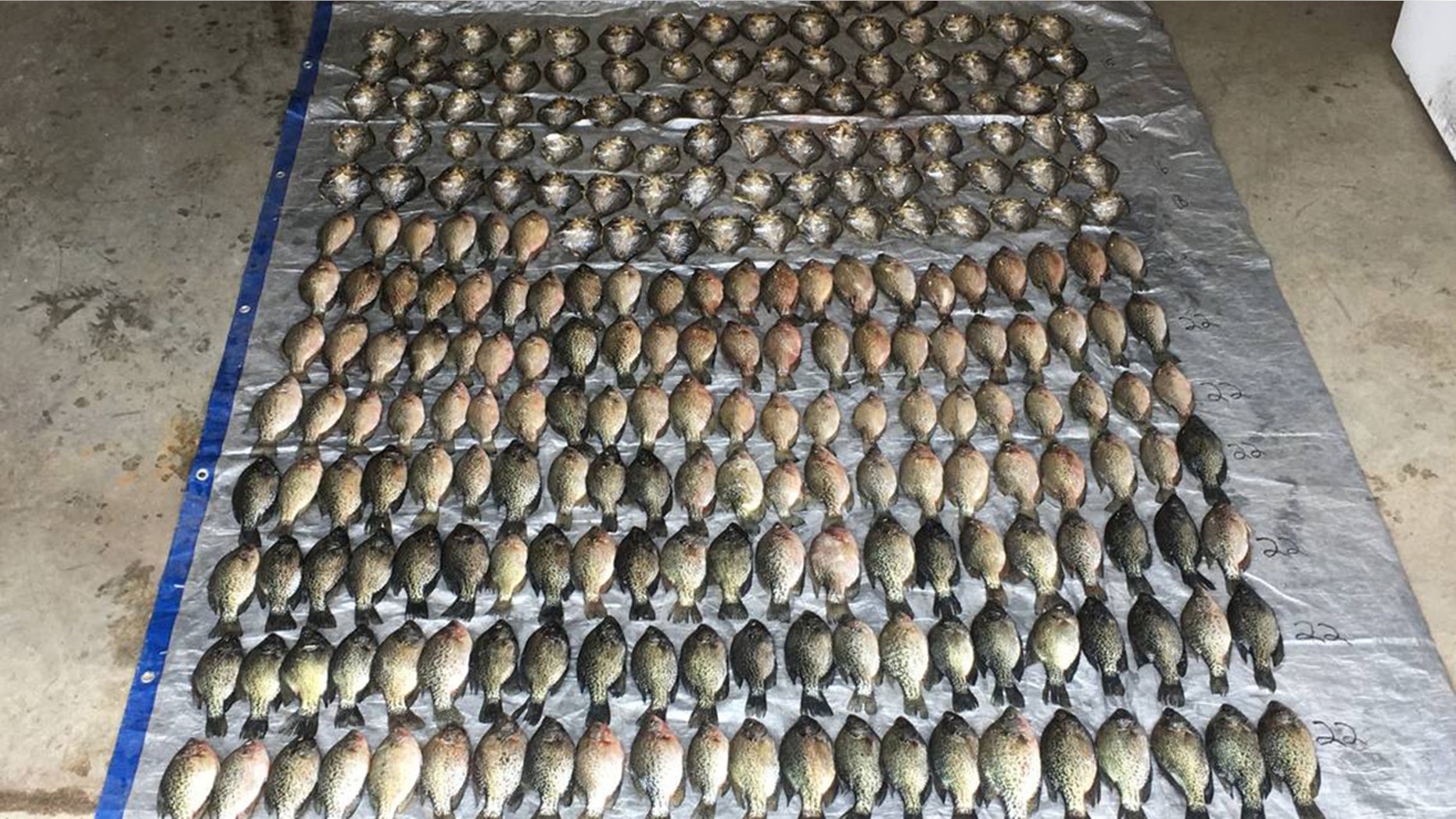 A Minnesota couple was charged with possessing too many crappies after an anonymous caller tipped off the state's Department of Natural Resources (DNR).
According to The Kansas City Star, a group of six was spotted by another angler catching crappies and keeping them at Lake Sisseton. The unidentified angler, who thought there were more than 100 fish that had been hooked by the group, called the Turn in Poachers hotline to report them.
500-POUND GOLIATH GROUPER EATS SHARK AS SHOCKED FLORIDA FISHERMEN WATCH: 'HE JUST SUCKED IT IN'
Authorities followed the tip and tracked down two vehicles belonging to the group reported at the lake. One of the vehicles led to Mountain Lake couple, Isouvahn Xayachack, 70, and Chanhthone Phongsim, 60, the Star reported.
The couple originally denied that they had any crappies in their home, but Xayachack, who told officers the fish "were biting good" that day, allowed authorities check the freezer.
According to the Star, the conservation officers found no crappies in the first freezer, but found "a large amount of packaged crappies" in the second freezer.
The DNR totaled 273 crappies altogether – 253 crappies over the legal imit and an amount conservation officer Dustin Miller told Newsweek was "the largest fish case I've had in my career."
Fishing regulations for 2018 in Minnesota limits the amount of crappies to 10 per person.
THOUSANDS OF SARDINES RECORDED JUMPING OUT OF WATER, ONTO FISHERMAN'S BOAT TO ESCAPE LARGER FISH
The authorities allowed the couple "to keep their legal possession limit of 20" – 10 per person, the Star reported. The couple was informed they would have to eat their crappies before catching more.
The couple was charged with having more than the legal limit of crappies in their possession – if found guilty, the couple could be fined and ordered to pay restitution up to $3,000, the Star reported.
Others in the group were contacted and investigated, but no other instances of illegal crappie possession were found. However, Kaew Chakvong, a member of the group, was cited for fishing without a valid license, the Star reported.
FOLLOW US ON FACEBOOK FOR MORE FOX LIFESTYLE NEWS
The conservation agency credits the hotline tip for leading them to the couple. In a statement to McClatchy, Lt. Col. Greg Salo, assistant director of the enforcement division, said, "Turn in Poachers is an invaluable tool that provides citizens an easy way to anonymously report what they believe to be fish, game or other violations and assist the DNR in protecting Minnesota's natural resources."