Massachusetts fishermen wrestle great white shark for striped bass in wild footage
A group of fishermen off the coast of Cape Cod were forced to wrestle a striped bass away from an unexpected visitor who seemed just as keen on keeping the catch for itself.
On Monday, anglers aboard a fishing charter out of Harwich Port, Mass., encountered a great white shark who not only tried to steal their striper, but also came right up alongside the boat.
THOUSANDS OF SARDINES FILMED JUMPING OUT OF WATER TO ESCAPE BIGGER FISH
In footage posted to Facebook by Adventure With Magellan Deep Sea Fishing Charters, the angler holding the rod is seen trying to reel in his catch before the shark can yank it off the line.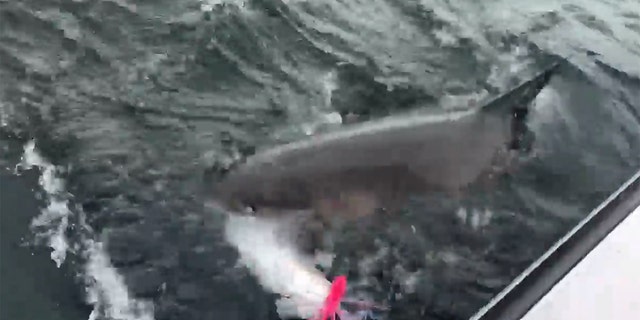 "Pull it fast, pull it fast … that's a great white shark!" one of the men can he heard saying.
"I told you we would catch a shark today while we were looking for stripers!" another exclaims.
"Get the [expletive] outta here," adds a third, as the shark emerges alongside the boat to try for another bite at the striper.
HAWAII FISHERMEN REEL IN 1,076-POUND MARLIN: 'IT LOOKED LIKE A SEA MONSTER'
The shark eventually leaves the fish alone long enough for the men to sink a gaff into the striper and pull it aboard, its skin full of bite-marks and its tail completely torn off.
Cynthia Wigren, the president of the Atlantic White Shark Conservancy, has since confirmed to the Boston Globe that the shark seen in the footage is indeed a great white.
FOLLOW US ON FACEBOOK FOR MORE FOX LIFESTYLE NEWS
Oddly enough, the fishermens' footage might not even be the craziest shark-related video shared to Facebook this month. Earlier in July, a fishermen with the Everglades Fishing Company attempted to reel a three-foot shark into the boat when an enormous grouper appeared from beneath the surface and swallowed the shark whole.
"He just sucked it in. I don't remember ever seeing anything this crazy," a woman with the fishing company told Fox News.