Judge rules against Florida angler in $2.8 million prize money dispute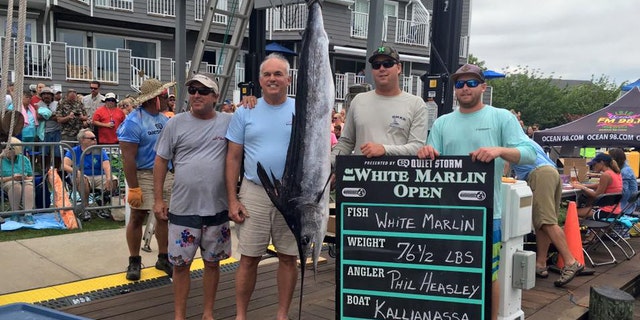 A Florida angler who claimed the $2.8 million top prize in the world's largest billfish tournament has just lost the largest catch of his life.
Phil Heasley staked his claim to the money after catching a 76.5 pound white marlin in last summer's White Marlin Open off Maryland.
But a Baltimore federal judge upheld Heasley's disqualiification Wednesday, finding that he broke tourmament rules by flunking two polygraph tests administered to winners to prevent cheating.
The judge also found that Heasley and his crew broke the rules by dropping fishing lines before the tournament's start time, the Baltimore Sun reported Friday.
MESSY DISPUTE OVER FISHING TOURNAMENT'S $2.8M TOP PRIZE HOOKS FEDERAL JUDGE
The prize money is being redistributed and the bulk of the money is going to a New Jersey fisherman, the paper reported.
Heasley testified at a two-week trial that the polygraph results were wrong, according to the paper.
"We maintain that Mr. Heasely and his crew abided by all of the tournament rules and regulations," his attorney said, according to the Delmarva Daily Times.
White Marlin Open president Jim Motsko hailed the ruling as vindication.
"The odds all the polygraphs were done wrong was less than one percent," he told the paper. "There was a whole lot riding on this—our integrity, the tournament's integrity, and we upheld our end of the contract."