Hunters, game wardens rescue moose trapped up to its neck in mud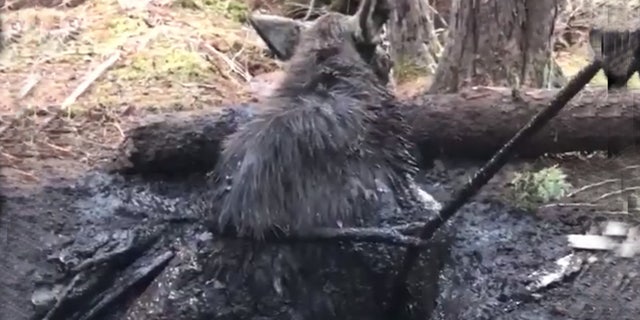 NEWYou can now listen to Fox News articles!
Two Maine game wardens and two hunters have come to the aid of a moose trapped up to its neck in a muddy spring.
WGME-TV reports the hunters were searching for deer antlers in a cedar swamp in Columbia, ME, last week when they discovered the moose.
The Main Department of Inland Fisheries & Wildlife said the moose was stuck in a 10-foot deep spring hole and buried up to its neck in mud.
COLORADO FIREMEN RESCUE DEER FROM FROZEN LAKE: HE WAS 'TOO TIRED TO MOVE'
"The moose had fallen into a spring hole, and had sunk right up to her shoulders, and she couldn't get out," said Maine Game Warden Bayley Grant told WGME.
Using a large stick, Wardens Bayley Grant and Scott Osgood were able to free the moose's front legs from the mud. From there, they were able to get a rope under and around the moose to help them extract her from the hole.
"We first tried to haul her out with the four wheeler, but it became clear she was too stuck for that," said Grant to WGME. "We then hung the come-along on a cedar tree, and started to winch her out."
The process was slow – the wardens think the moose's hind legs were stuck on some tree roots – but the moose was eventually pulled free.
The wardens cut the rope off her and she "stood right up and took off," Grant says. Grant thinks the moose had been stuck less than eight hours because of her ability to trot away.
FOLLOW US ON FACEBOOK FOR MORE FOX LIFESTYLE NEWS
Officials conducted a follow-up search for the moose and did not find her, assuring the wardens that the moose was doing well, WGME reported.
"The moose would have died there without being discovered by the two shed hunters, and the help from the two game wardens to get her out," the Maine Department of Inland Fisheries & Wildlife said in a press release.
"It's a moose story with a happy ending," added Grant.
The Associated Press contributed to this report.