Hawaiian fisherman asks to restrict foreign fishing licenses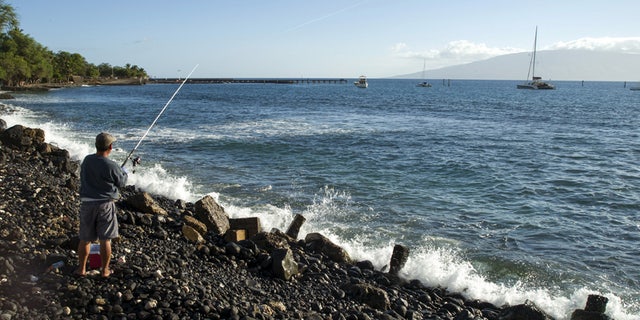 A Native Hawaiian fisherman is asking a state board to declare that only people who are lawfully admitted to the United States can get commercial fishing licenses.
The petition was filed Wednesday in response to an Associated Press investigation that found hundreds of foreign fishermen confined to boats and some living in subpar conditions. Hawaii grants the foreign fishermen licenses to fish but they aren't allowed to enter the country.
LOS ANGELES FISHERMAN CATCHES 50-POUND CARP IN MIDDLE OF THE CITY
Malama Chun, who lives on Maui and engages in fishing as a cultural practice, filed the petition with the state Board and Natural Resources, which regulates fishing licenses. Chun's family has seen a massive decline in fish stocks over generations. He blames overfishing and says in the petition that giving licenses to people who aren't in the U.S. legally contributes to the problem.
"By giving these guys licenses, it completely interferes with the ability for marine resources to be protected," said Lance Collins, an attorney who is representing Chun. "He wants the laws to be enforced so that the fisheries are protected for everyone's enjoyment."
Collins cites a state law that says it is unlawful for anyone who is not legally admitted to the country to take marine life from Hawaii waters.
Chun also says the fishermen's confinement to boats violates the "law of the Splintered Paddle," a state law with origins in the Hawaiian Kingdom which says people in Hawaii must have freedom of movement.
FOLLOW US ON FACEBOOK FOR MORE FOX LIFESTYLE NEWS
The Department of Land and Natural Resources did not have an immediate response to requests for comment, said spokeswoman Deborah Ward.
In a recent written opinion, Hawaii Attorney General Douglas Chin said the Department of Land and Natural Resources provides landing permits as proof the fishermen are "lawfully admitted."