Great white shark surprises New Jersey fishermen: 'This is crazy'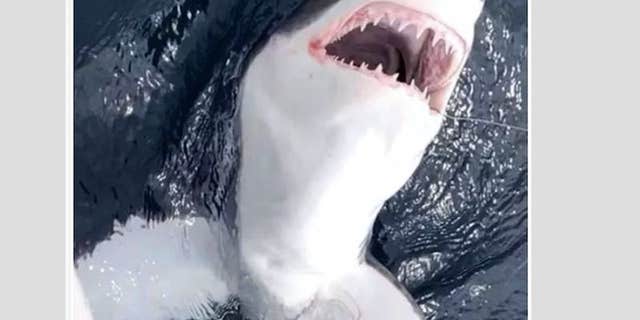 After about 7 hours of fishing for tuna 40 miles off the coast of New Jersey on Sunday, fisherman Chris O'Neill and three other crew members decided to come closer to shore and search for mako sharks, a popular game fish in the area.
The group — which included Chris' uncle Joe, Sam Messler and Robert McLaughlin — put out three fishing lines at 20, 40 and 65 feet deep. After about 45 minutes, O'Neill noticed the 40-foot reel start to turn. The crew waited quietly for about two minutes before the reel started to scream.
"We started reeling it in. At first, we didn't know what we had, though we were hoping it was mako," O'Neill, of Little Egg Harbor, told Fox News.
GIANT GREAT WHITE SHARK CAUGHT ON CAMERA CIRCLING FLORIDA MAN'S BOAT
Within 15 minutes, a fin surfaced and the fishermen pulled the creature to the side of the boat. As O'Neill turned the 4- to 6-foot fish over, he saw its jaw and knew "right away" it wasn't a mako: it was a great white.
"As soon as its head flashed out of water we knew what it was," O'Neill said. "We're fishermen. We do this a lot. You get to know the species."
The great white shark's triangular-shaped teeth, large gills and broad jawline are dead giveaways, O'Neill described.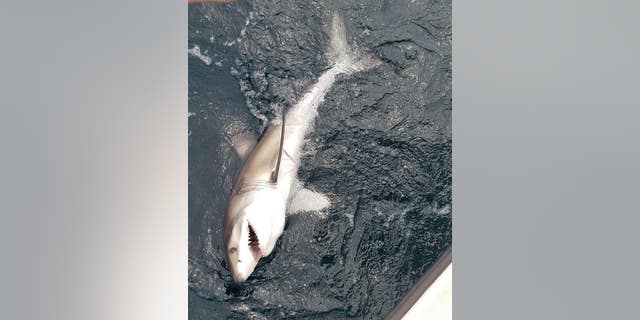 As soon as he identified the shark as a great white, O'Neill, following fishing regulations in the state, carefully cut it loose.
15-FOOT GREAT WHITE SHARK SHOCKS SCUBA DIVERS ABOVE FLORIDA KEYS SHIPWRECK
"We knew we had to release it as quickly as possible. We were like, 'Oh yeah, that's got to go," O'Neill said, adding that it only took about 30 seconds for them to unhook it.
The great white shark doesn't have a legal conservation status in New Jersey but it's still "illegal to take, possess, land, purchase, or sell them within the state," the Conserve Wildlife Foundation of New Jersey explains on its website.
While he didn't get to see the great white for long, O'Neill said it was still memorable. After all, it was his first great white shark encounter.
"I was like, 'This is crazy," O'Neill recalled.
O'Neill sent to photos to his friend, who works at Fishermans Headquarters in Ship Bottom. The bait and tackle shop posted a photo of the great white on its Facebook page — and the story of O'Neill's wild adventure took off from there.
"It wasn't meant to be a big huge thing," O'Neill admitted, though he said it was still a "wild experience."