Florida men pull in massive 750-pound alligator: 'More scared than we were happy'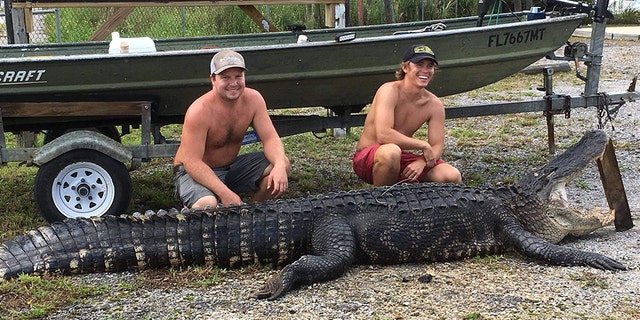 Two Florida men had their strength tested during a 30-minute struggle with a massive 12-foot, 750-pound alligator.
"Once we saw his head, we were more scared than happy," the men said, to My Panhandle.
The gargantuan beast was caught and killed in Gulf County around 3:30 Sunday morning during a weekend hunting trip.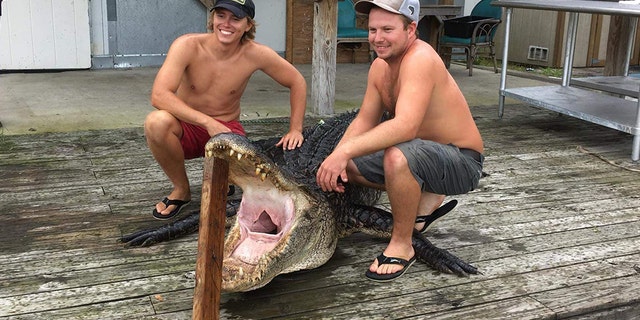 Brandon Barfield and Brandon Cutchins, two licensed alligator hunters, said they had caught some smaller alligators earlier, but decided to try one more spot before calling it a day.
NORTH CAROLINA COUNTY ISSUES ALLIGATOR HUNTING LICENSES FOR FIRST TIME IN 45 YEARS
"We decided to try one more place and we ended up seeing this guy," Cutchins told My Panhandle.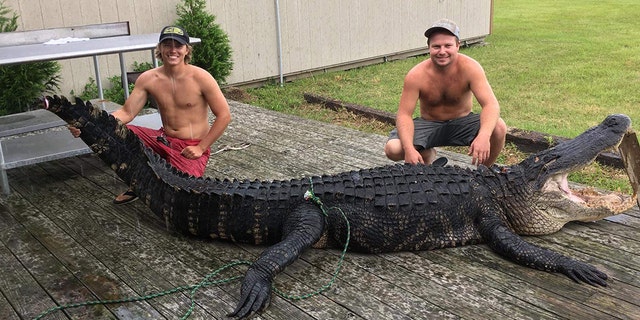 The pair told the publication they had set out to catch alligators in the 5-to-6-foot range before spotting this one.
"We caught a few small ones and noticed a bigger one, and by the time we got on it, we never noticed how big it actually was," said Barfield, My Panhandle reported.
12-FOOT ALLIGATOR CAUGHT FIRST DAY OF HUNTING SEASON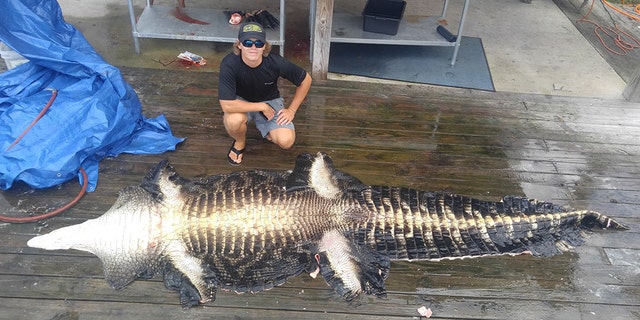 But the monster alligator was not going without a fight — it took the men 30 minutes to harpoon the reptile.
"He fought so hard. We finally got him up to the boat, got him with a harpoon, put a couple big snatch hooks in him. The first thing we saw was his tail. But his tail, that didn't do him any justice. Once we got the other hook in him and saw his head, we were more or less scared than we were happy at this moment," said Barfield to My Panhandle.
MAN CAPTURES GIANT 1,000-POUND ALLIGATOR ON FLORIDA'S LAKE OKEECHOBEE
The struggle for the two Floridians did not end there. After killing the creature, they had to figure out how to get it back to shore – a feat that they say took over four hours.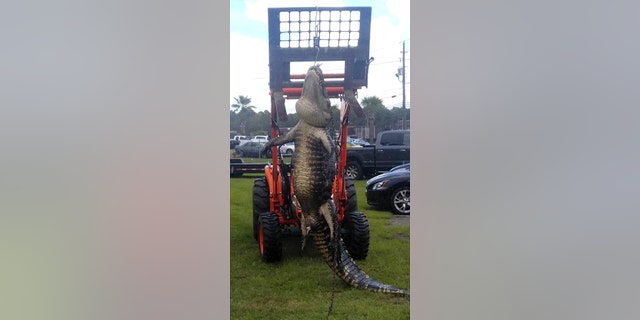 At first the men tried strapping life jackets to float the huge gator back to shore, before strapping it to the side of the boat. Eventually, after both proved fruitless, Barfield and Cutchins got a tow assist for them and their trophy.
FOLLOW US ON FACEBOOK FOR MORE FOX LIFESTYLE NEWS
Of the unforgettable catch, the two said they plan to eat the meat and use the hide.
"We're going to eat the meat and probably get some things made out of the hide and mount the head," said Cutchins to My Panhandle.