46 fishermen rescued from Lake Erie after ice floe separates from shore: 'Everybody was screaming'
The Coast Guard has issued a warning for ice fishermen in northern Ohio after 46 anglers became trapped on an ice floe that separated from shore on Saturday morning.
A total of 46 fisherman were rescued from the loose ice floe by Coast Guard and local emergency personnel, after being cut off from Catawba Island on Lake Erie, the Associated Press reported.
SEA CREATURE WITH NO EYES, SHARP TEETH STARTLES FISHERMEN
"Everybody was screaming," James Gibelyou, 33, told Fox 8 of the incident. "I kind of panicked at first, but then I talked to my wife and got control of myself. There were a couple guys who were freaking out and we calmed them down and got the situation figured out."
Pictures from Saturday morning show emergency workers transporting the stranded fishermen to the shore via airboats. Two were reportedly airlifted to a local hospital for further medical evaluation, amid reports from Fox 8 that some of the people fell into the water when the ice broke.
Around 100 other fishermen were said to have waded back to shore "by swimming or walking on ice-bridges," the Coast Guard confirmed.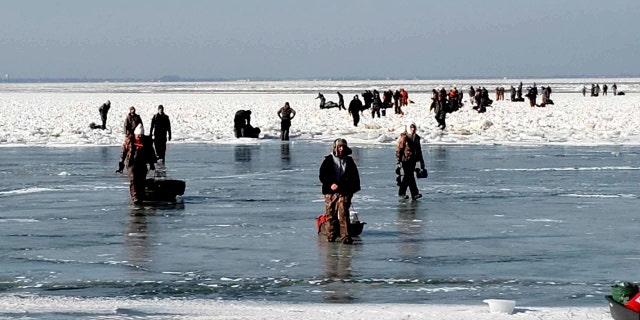 SEE IT: FISHERMAN'S 50-POUND BLUE CATFISH IS BIGGEST EVER CAUGHT IN TENNESSEE LAKE
Officials with the Coast Guard also issued a warning to ice fisherman in the Great Lakes region, advising them to refrain from ice fishing, especially as the weather begins to get warmer.
"As temperatures begin to rise, the Coast Guard strongly urges people not to go out onto ice," the Coast Guard wrote in a news release. "Ice may look safe but it is difficult to determine the thickness visually and the increase in warm weather will continue to melt and weaken the ice."
CLICK HERE TO GET THE FOX NEWS APP
The Associated Press contributed to this report.