Dead whale washes ashore on Cape Cod, was famous in area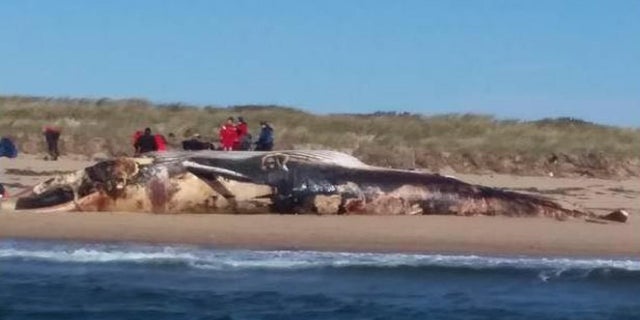 A well-known fin whale measuring 54 feet in length washed up dead on a Cape Cod shore last week, environmental officials said.
The whale - known as "Ladders" because of the scars on his dorsal fin - was first documented in a sighting from 1985, according to a Facebook post from the Center for Coastal Studies.
The carcass, which had been floating belly up and feasted on by sharks, was spotted in the water on Oct. 14 and drifted until it washed ashore days later in Provincetown, located at the tip of Cape Cod, the Cape Cod Times reported.
Ladders had been spotted in the waters near Cape Cod for decades.
"It's an animal that's a lot more than a little familiar," said John Conlon, a first mate and field guide for Dolphin Fleet Whale Watch. "I started into the business in 1983. I've been looking at this particular whale since 1984."
A team from the Center for Coastal Studies and the International Fund for Animal Welfare went to examine the whale to conduct a necropsy. It could take several months before the results are in.
His dorsal fin was found fractured, but it was not determined whether that occurred before or after he died, said Kristy Volker of IFAW.
Ladders is one of 600 documented Fin whales identified by the center since 1979. Fin whales are classified as an endangered species according to the U.S. Fish and Wildfish Service.
They are among the largest animals on earth, second only to blue whales, the center said.