Company Testing Gun-Mounted Cameras for Police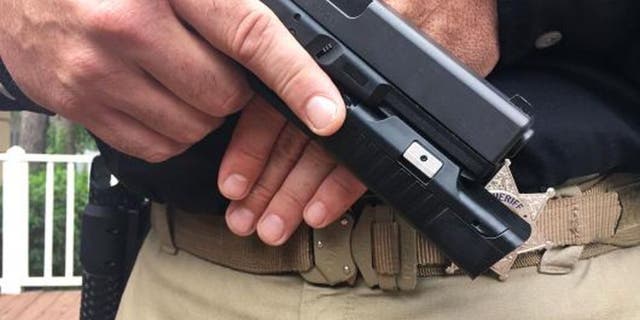 NEWYou can now listen to Fox News articles!
Police departments are testing a new firearms technology that may change the estimated $1 billion annual U.S. market for law enforcement camera hardware and software that involves a gun-mounted camera, according to this story form cnbc.com.
Body cameras have become a common police accessory since police shot an unarmed teenager in Ferguson, Missouri in 2014. The devices have received mixed reviews from civil rights leaders, who have questioned the policies for using the cameras in some departments. Some say the line of sight for chest-mounted cameras is too easily obscured.
"Cameras on guns provide a better point of view than body-worn cameras, since they are usually aimed directly at the suspect and are less likely to be blocked when an officer shields their torso behind something, say proponents of the technology such as Centinel Solutions, one of the first companies to deliver the devices to police departments for testing."
Centinel's camera fits with the majority of gun holsters that accommodate a weapon light, and its software complies with law enforcement protocols of access and logging files, the story says.
However, the camera does take up a pistol's accessory rail, preventing the use of a weapon light.
The camera software starts the camera recording as soon as the gun is drawn. The video is encrypted and can be stored locally or in the Cloud using Amazon's AWS Government Cloud infrastructure, the story says. A camera activation also triggers an alert indicating a gun has been drawn, sent via a mobile app to a desktop portal manned by an officer.
"We love that function because it can send a signal to the sergeant to let them know that he or she just pulled their weapon and it also tells you exactly where they are so you can start sending units to the location," Anthony Holloway, Chief of Police with the St. Petersburg Police Department in Florida, told CNBC. His department is testing the technology.
So far, Holloway and his team prefer the gun cameras over the body-worn cameras, the story says.
The next step is to test the devices on the street in real-life situations, incorporating community feedback.
The devices cost about the same as body cameras—several hundred dollars each—but the video transmission and storage costs are substantially lower, since the cameras are only recording at the necessary times, greatly reducing the size and number of video files to store and protect. Software and service account for the bulk of the industry's $1 billion annual market.
From a recreational shooter's point of view, the new tech could be valuable for diagnosing shooting mistakes and analyzing performance. The idea has already made its way into the sporting world, minus all the high-tech, secure video software.
For the full story from CNBC.com, go here.