Aspen police: Taking selfies with bears is never a good idea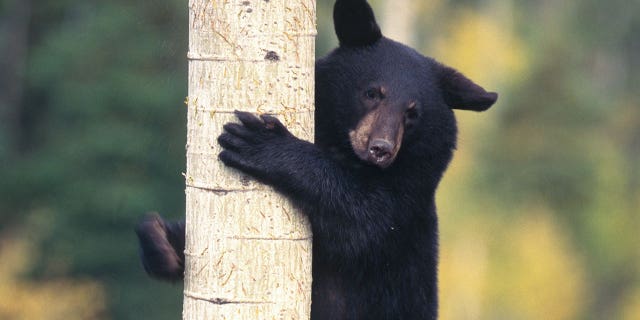 NEWYou can now listen to Fox News articles!
In news that should seem like common sense to anyone who knows what a bear is, officials in Aspen have had to urge residents to refrain from taking selfies with the wild mammals.
The Aspen Police Department issued the strange warning on Thursday, after a bear and her two cubs were spotted sitting in a tree along the Hyman Avenue shopping district the day before, The Denver Post reports.
BEAR SHOWS UP TO BIRTHDAY PARTY LATE, FINISHES OFF CAKE
Police had reportedly been waiting for the better part of Wednesday for the bears to come down, but were alarmed when onlookers began chasing after the wild animals when they finally left the tree.
People "insisted on trying to get close enough to take selfies," Sgt. Rob Fabrocini of the Aspen Police Department said, adding that one woman even attempted to approach the bears with a child in her arms.
Furthermore, as the bears were fleeing the eager selfie-snappers, the mother bear became separated from her young, prompting her to turn around and head back to the shopping area. "People were still walking right up to her, even when it was clear she was agitated and growling as people got close," said police, reports Fox 31 Denver.
QUICK-THINKING FRIEND THWARTS BEAR ATTACK ON CYCLIST
In response, the department was forced to issue a statement on Thursday, warning Aspenites to please refrain from chasing bears.
"Just because there is caution tape up and an officer in the area, this in no way guarantees your safety," the statement read. "Although black bear attacks are uncommon, they are more likely to occur in a situation when a bear is being harassed by onlookers."
The statement reads that, if onlookers were to provoke a bear to the point of attack, the Colorado Parks & Wildlife department would be forced to euthanize the animal. The Denver Post notes that there would also be a $100 fine (and a penalty of 10 points off one's driver's license) for harassing wildlife.
FOLLOW US ON FACEBOOK FOR MORE FOX LIFESTYLE NEWS
On the other hand, the police department's warning apparently did nothing to detract the bears themselves from returning to the scene of the crime, which they did on Thursday. This time, wildlife officials are reportedly relocating the bears to western Colorado.
The Aspen PD couldn't resist following up with a funny Facebook post likening the bears to celebrities and the selfie-snappers as "paparazzi."
"As their managing agents, we would request that if you bump into one of our furry celebrities, you politely take a peek and keep on moving," the police department joked.
This also isn't the first instance of police warning Coloradans against taking self-portraits with bears: In 2015, officials at the Waterton Canyon park in Denver had to issue a similar request after visitors started snapping selfies with the mammals.