Airstream's Nest is a first: The company's new model swaps aluminum for fiberglass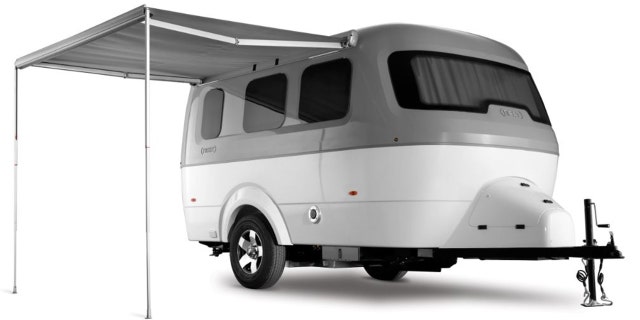 The newest Airstream trailer is a far cry from the aluminum silver bullet you grew up camping in. According to its April 12 press release, for the first time in its 87-year history, Airstream is introducing a travel trailer model that isn't made of aluminium.
Forget retro. "Sleek, sophisticated and modern," answers Justin Humphreys, Airstream COO, when Fox News asked how he'd describe the new Nest trailer in three words. "We believe Nest will appeal to an audience who appreciate the iconic history of the Airstream brand and who value modern design."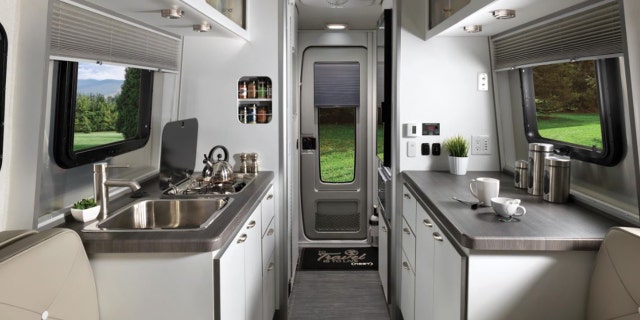 NEED AN EXCUSE FOR A ROADTRIP? HERE ARE SOME OF AMERICA'S BEST
Modern, in this case, means fiberglass. Other retailers have been using this lighter material for decades, so it's easy to say Airstream is a late player in the fiberglass game. Perhaps to compensate for this, Nest offers one of the most futuristic looks on the market. It was originally designed by Robert Johans, an Oregon-based designer, though Airstream made a few in-house changes to the prototype. Johans sold his concept to Airstream for an undisclosed amount in 2016. At the time, Airstream was looking to break into the fiberglass mold trailer market. It was a move Airstream founder Wally Byam envisioned back in the 1950s, but never fully brought to fruition.
But with 2018 expecting record-breaking RV sales, today's timing couldn't be better. According to the Recreational Vehicle Industry Association's latest report, 2017's RV sales — 504,599 units — were up 17 percent compared to 2016. If the trend continues as expected, 2018 will mark the ninth consecutive year of growth in RV sales since the Great Recession.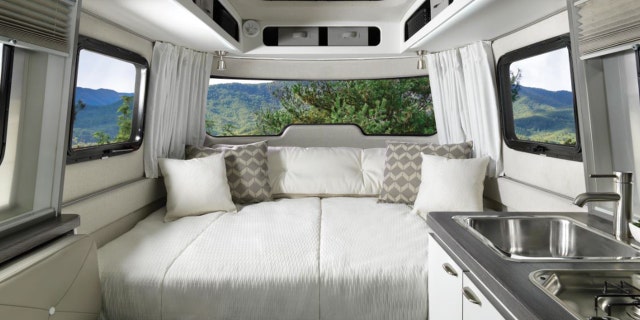 Like Airstream's first trailers, Nest will be manufactured at the company's Ohio factory in Jackson Center. But while the original Airstream silver bullet retailed for $1,200 back in 1936, Nest starts around $46,000. (Airstream models range in price from $36,000 for the Basecamp to $156,000 for the 33-foot-long Classic.) Currently, Airstream's best-selling model is the Basecamp — similar in size to Nest but with less sophisticated features.
At just 16-feet-long and 3,400 pounds — meaning you can easily tow it with any mid-sized SUV — Nest is one of the company's most compact models. With its Apple-like aesthetic (think smart meets minimalistic; it's only available in a simple gray-and-white color scheme), it's certainly the company's most contemporary model.
There are, however, two different layouts: one features a queen-sized mattress; the other features a dinette that folds down into a bed. There are also two interior color palette options, "Clutch Blue" and "Wingspan White."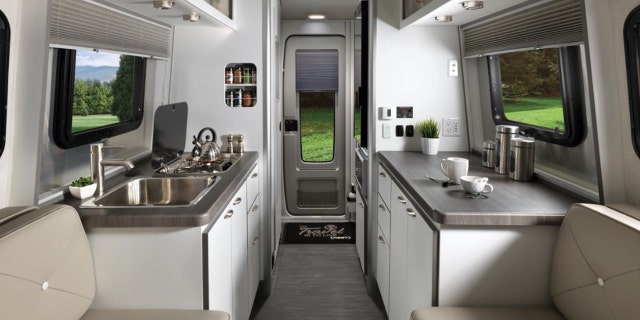 7-YEAR-OLD HIKES KILIMANJARO IN HONOR OF LATE DAD
"The Airstream design team incorporated a number of clever design elements in order to maximize every square inch of Nest's 16 feet," says Humphreys. "We've never had this much storage in a 16-foot travel trailer." These elements are elevated to glamping status in the form of a cedar-lined closet, Bluetooth-controlled LED lighting, strategically placed USB ports, blackout curtains, a Tuft & Needle adaptive foam mattress, and a powered patio awning. But perhaps the most striking interior features are the panoramic windows reportedly modeled after ski goggles. They really help open up a rather small space. After all, most of us don't typically cook, eat, shower and sleep in 112-square-feet.
Airstream says its customers, on average, use their trailers three weeks per year. Airstream trailers are available at authorized dealers in all 50 states, and the company estimates that it has more than 150,000 trailers on American roads. Some even belong to celebrity fans including Matthew McConaughey, Tom Hanks, Sean Penn, Denzel Washington, Lenny Kravitz and Miranda Lambert, whose vintage airstream was last seen being renovated on HGTV's "Junk Gypsies."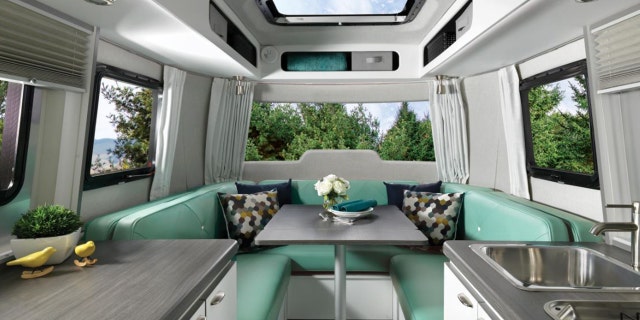 Nest is basically the iPhone of towable tiny homes. And like with any new iPhone launch, the line outside the front door is growing. "Nest is just arriving at dealers," says Humphreys. "We have a waiting list for people to see them."
FOLLOW US ON FACEBOOK FOR MORE FOX LIFESTYLE NEWS
That said, Airstream insists it's not completely switching from aluminum to fiberglass and ditching its iconic signature look. "Let's not make changes," Byam used to say when reciting Airstream's unofficial motto. "Let's make only improvements."