82-year-old finishes Appalachian Trail, becomes oldest to ever complete hike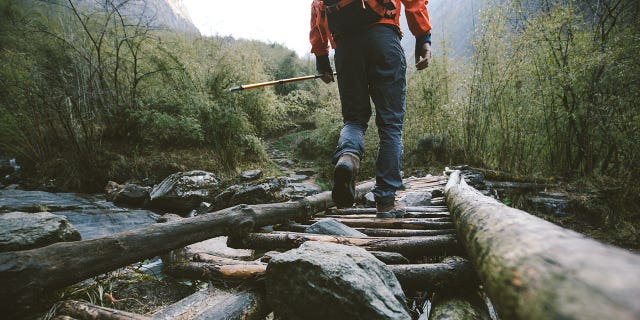 NEWYou can now listen to Fox News articles!
Conquering the 2,200 mile Appalachian Trail is no easy feat at any age, but 82-year-old Dale Sanders of Barlett, Ky. was particularly determined to vanquish it.
Setting out in March 2016 against wild weather, critics, and the odds alike, the spry outdoorsman made his final step of the journey on Oct. 26 — and officially became the oldest hiker to thru-hike the trail.
"I feel numb right now. It's really a euphoric experience," Sanders said, according to Outside magazine. "I'm just so thankful to the people who have helped me. I literally would not be here if it weren't for all the people who encouraged me along the way."
FAMILY BRINGS BABY ON APPALACHIAN TRAIL HIKE, SETS HER UP TO BE YOUNGEST TO EVER COMPLETE THE JOURNEY
Affectionately nicknamed "Grey Beard," Sanders broke Lee Barry's record, who completed the hike at age 81 in 2004. Taking a "flip-flop" approach to the trail, Sanders traveled from Georgia to West Virginia, before going north to Maine and back again to the Mountain State. This popular adjustment allows hikers to trek in fairer weather conditions before tackling the northernmost part of the A.T.
According to the Appalachian Trail Conservancy, 2,650 adventurers set out each year to hike the A.T. in its totality, but Sanders' journey in particular is remarkable from the start. For starters, he is older than the trail itself, as it was officially christened in 1937, the Washington Post notes. And while on the trail, he even met young Elie Quirin, who is poised to become A.T.'s youngest-ever hiker to date.
While Sanders has much to celebrate now, the experience came with its fair share of scares. In August, his journey nearly ended when he began internally bleeding in Maine's Hundred-Mile Wilderness, heading home to Tennessee for ten days to be treated for a ruptured hemorrhoid.
NINE-YEAR-OLD COMPLETES 'TRIPLE CROWN' OF THRU-HIKING, SAYS HIS 'FEET ARE HAPPY TO BE DONE'
Sanders said that the episode stole his confidence and he "almost didn't come back" until a friend convinced him to return, and even accompanying back to the trail. Though Sanders had never hiked for more than two weeks before setting out for the A.T., it was not his first serious outdoor escapade.
In his youth, Sanders broke the record for underwater-breath-holding in 1959, and was IUSA spearfishing athlete of the year in 1965, the Washington Post notes. A Navy veteran and lifelong parks and recreation professional, at age 80, he paddled the entire Mississippi River in support of juvenile diabetes research.
FOLLOW US ON FACEBOOK FOR MORE FOX LIFESTYLE NEWS
Repeatedly citing how critical the support of fellow hikers, or "trail angels," was to his achieving his dream, Sanders reports that it was all worth it.
"The best comment from one of them was, 'I want to be like you when I'm your age.' That kept me going," he said.