14-year-old hunter's encounter with bear cub goes viral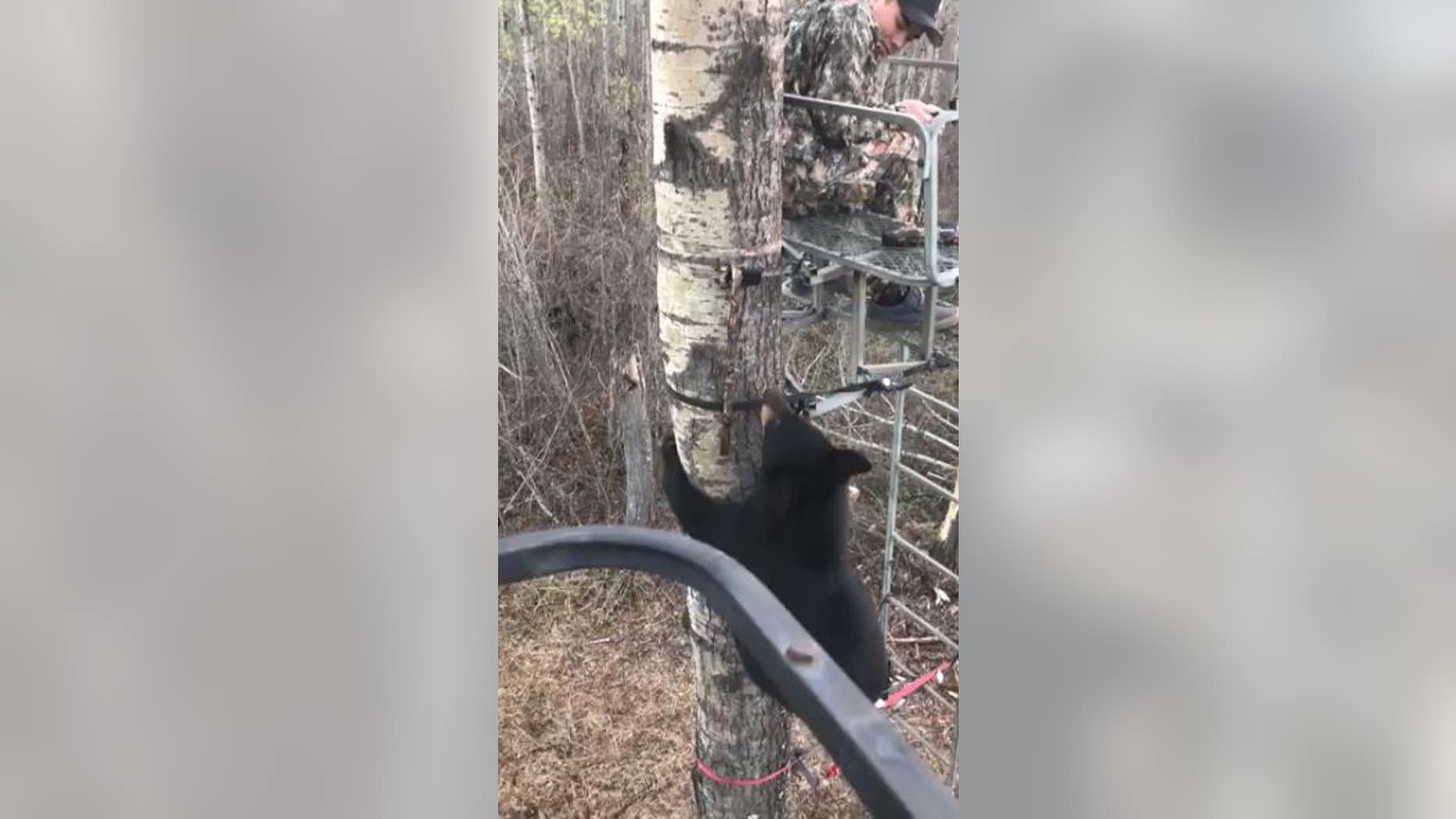 A video of a teenager getting an up-close view of a bear while hunting in Alberta, Canada, has gone viral.
Fourteen-year-old Davin Grunrow was sitting in a lookout post in a tree while hunting with a family friend, Mark White, Global News reported.
In the video, Grunrow is seen sitting in the perch when a curious cub climbs right up next to him to investigate the scene. White stayed still in the next tree over as he shot the video with his phone.
DEAD GOOSE FALLS FROM SKY, KNOCKS HUNTER UNCONSCIOUS IN 'FREAKY ACCIDENT'
While the bear might have spooked others, the teen remained calm and completely immobile as it poked around before returning to its mother and sibling, the news outlet reported.
"We always know, when we go in the stand, if the bear comes up the tree, stay calm," White, who has hunted for 45 years, told Global News on Monday. "Show respect."
To make it even more impressive, this was Grunrow's first bear hunting experience. He knew exactly what to do during the precarious situation, experts say.
"It was something that could have gone terribly wrong, but didn't," White said to Global News.
"He learned everything that night that I could possibly teach him," he added.
The video, which White posted on Facebook, has been viewed over 1.4 million times, with people praising Grunrow for his composed demeanor and several admitting they would have been terrified in that situation.
"Good on ya for staying so still," one commenter wrote on 780 Outdoor's reposting of the video, which has garnered 57,000 views.
"Great camo!" another said.
FOLLOW US ON FACEBOOK FOR MORE FOX LIFESTYLE NEWS
White, who accompanied Grunrow and Grunrow's sister for the hunt, said the group stayed and watched the bears a while longer once the cub crawled down the tree.
White told the publication there were other bears in the area at the time, but did not say if the crew killed any during the hunt.