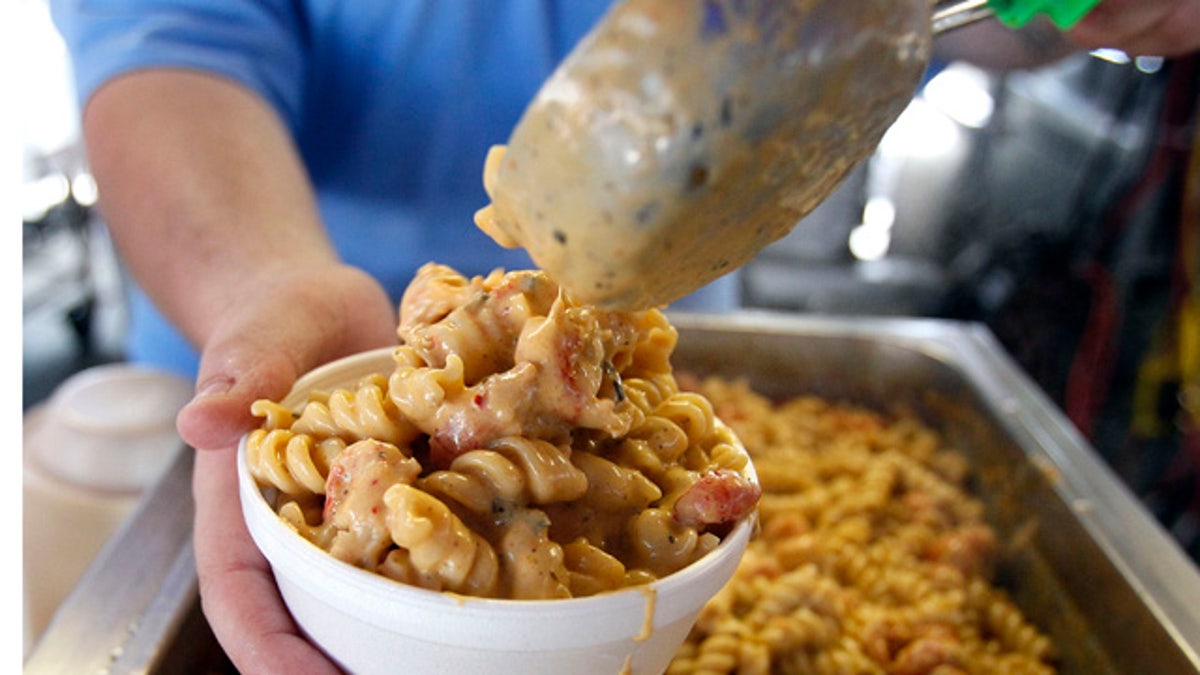 Jeffery Broussard and the Creole Cowboys were still warming up on the Fais Do-Do Stage at the New Orleans Jazz and Heritage Festival when Nancy Heck started eating her breakfast — a toasted slab of fresh bread stuffed with crawfish and gooey cheese melting over the edges.
A veteran Jazz Fest attendee, Heck has her game plan down: first get food, then pick out a spot in front of a stage.
"I love the music," she said. "But I may love the food even more.
The annual festival serves up delightful and varied helpings of both.
The food reflects Louisiana's varied ethnicities traditions and the area's passion for quality recipes.
"We come every year," said Bob Button, 37, of Los Angeles. "We hit a different restaurant every night, but even if we didn't, we would still feel like we dined in style. I mean, fest food is one more great New Orleans dining experience."
Button said he and his wife, Ruby, used the festival as a chance to try new dishes, and enjoy old favorites.
On Sunday the couple was sampling cracklins, at Fatty's Cracklins, which they said were delicious, and Jason Lees, who has been cooking and selling them at Jazz Fest for four years, described as "bacon on steroids."
It's actually thick strips of the pork skin that is first rendered in boiling 250-degree fat, then "puffed" in 450-degree fat, which leaves it crisp with a flavor of cured ham or bacon.
"It's always fun to watch someone try them for the first time," said Jake Ryan, who was handing out the $5 bags of cracklins and $4 trays of sweet potato fries at the stand. "They start walking off and do a 180 to come back and tell us how good they are."
Business at the food booths is brisk over the two weekends of the festival, which ended Sunday. The profits can be a real boost to the restaurants and groups that operate them — money that's hard-earned.
Competition for space is stiff, with applicants submitting samples of their product to a panel that evaluates it.
Operators put in 14 or more hours a day, with booths open from 11 a.m. to 7 p.m., and time needed before opening to re-stock and prepare. After closing, there's cleaning. And during the sizzling days, the interior of many of the stands takes on the atmosphere of a commercial kitchen with chefs preparing a variety of tasty dishes in un-air-conditioned and primitive conditions.
"We always joke that next year we'll have a snowball stand," Lees said as five 30-gallon drums of hot oil boiled away.
Health inspectors visit the booths every hour to check that the hot food is hot, and the cold food is cold.
"The festival requires all the food to be cooked on site," said Eileen Vucinovich, who has been dishing out seafood at Jazz Fest for 29 years. Her oyster poboys and spinach and oyster salad are always popular, she said. The massive oil spill in the Gulf of Mexico last year, which hurt seafood sales badly, had only one effect on sales this year, Vucinovich said.
"The price of oysters has gone up," she said. "But sales are steady and running about the same as last year."
For 9-year-old Jacob Treigla every Jazz Fest requires a visit to the "delicious" Crawfish Monica stand where a pasta and crawfish combo is cooked in a thick sauce.
Crawfish Monica is one of the festival traditions for many, and one of the great success stories of Jazz Fest food.
Pierre "Pete" Hilzim opened his first food stand at the festival 28 years ago. At the time he sold a shrimp and eggplant dish from a 10-foot by 10-foot stand.
"I lost my butt," he said.
But before his second year he concocted the now trademarked dish for a dinner party, and decided to try it the next year.
These days his booth is 20-foot by 20-foot, and he sells more than 20 tons of the savory dish, and usually has six lines of buyers stretching more than 50 feet as they wait for it each day of the festival.
"It's fun to put a product in the lexicon of food," Hilzim said. "Especially when you weren't sure at first people would buy it, let alone love it."