Paraplegic man says Domino's worker discriminated against him: 'It hurts, it hurts bad'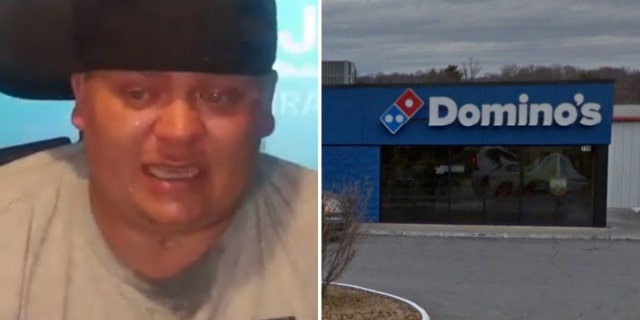 NEWYou can now listen to Fox News articles!
A Domino's employee in Tennessee has been fired after a paraplegic man posted a now viral video on social media claiming the pizza chain discriminated against him.
Dustin Kaywood posted the emotional video to his Facebook page Monday detailing his experience at the Domino's in downtown Kingsport.
Kaywood, who's paralyzed from the chest down, drove to the local shop in a car equipped with driving sticks to pick up a pizza he had ordered for himself and his mom and brother.
NEW STARBUCKS TRAINING MANUAL PROMOTES 'BECOMING COLOR BRAVE,' SPEAKING TO CUSTOMERS 'ONE HUMAN TO ONE HUMAN'
He said because he went alone, he needed someone to bring the pizza to his car. When he spotted an employee walking by in the parking lot, Kaywood told him he was a paraplegic and asked if he could bring the pizza to his car because he couldn't walk in and get it himself.
Kaywood said the employee then asked him how he was driving if he was paralyzed. When Kaywood explained, he claims the employee laughed and walked off.
He then tried calling the store to see if someone inside would help him out. When the employee answered and Kaywood explained the situation and what had just happened, he claims he was greeted with similar disrespect.
"He laughed at me like he didn't believe I was paraplegic…He said, 'If you can't walk in and get it, we're not bringing it out to you,'" Kaywood said in his video.
"That is discrimination. Why does everybody else better than me just because I can't walk? I've never in my life had someone do that to me…it hurts. It hurts bad," he said.
A spokesperson for Domino's told Fox News that some of the people who work for the independent franchise "showed an unfortunate and remarkable lack of common courtesy on Monday evening."
The owner of the Kingsport location addressed the situation immediately, according to the spokesperson.
Domino's said the delivery driver who spoke with Kaywood in the parking lot advised him to call inside the store to get his order, as he was on his way out. This employee was suspended for one week as a "teaching moment."
The employee who spoke to Kaywood over the phone has been terminated for the "utterly unacceptable" behavior, the spokesperson confirmed.
FOLLOW US ON FACEBOOK FOR MORE FOX LIFESTYLE NEWS
The franchisee's director of operations released the following statement on the matter: "We contacted Mr. Kaywood shortly after he posted this. The supervisor called and offered his next order for free and insured him we would investigate the situation. I then called Mr. Kaywood personally got his side of the story…I personally made sure Mr. Kaywood saved my contact info, so that he could call me directly whenever he ordered from us in the future, so that I could arrange curb side pickup."