Green Coke launched in Argentina with natural sweetener and eco bottle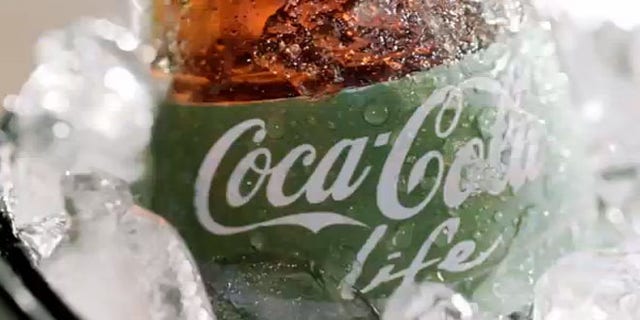 NEWYou can now listen to Fox News articles!
Coca-Cola's iconic red logo is going green, at least in Argentina.
The world's largest soda company has recently launched Coca-Cola Life, a low-calorie drink that's aimed at a health-conscious niche market between Diet Coke and the brand's classic variety.

The new Coke Life has about 100 calories per 20 ounces, versus the 250 for regular Coke. The green-labeled beverage is sweetened with a combination of sugar and the naturally occurring, no-calorie sweetener stevia.
Coke and Pepsi have both been using stevia, a plant native to Paraguay, as a sweetener for years, but never for standard soda.
"Coca-Cola Life is the first soda from the Coca-Cola family that is naturally sweetened with sugar and Stevia, which adds to our portfolio a delicious taste with a proposed low in calories" Coca-Cola stated on its Argentinean website.

Currently, Coca-Cola uses stevia in 45 of its products, like as Vitaminwater Zero and Fanta Select, but has never been used in its flagship cola.
Aside from including the stevia plant as an ingredient, Coca-Cola Life is packaged in the company's award-winning PlantBottle. The bottle, featuring a green label, is made with 30 percent plant material and is fully recyclable.

As of yet, there is no date for introducing the new Coke product anywhere outside Argentina.
In an advertisement, recently released in Argentina, the company likens drinking Coca-Cola Life to a first kiss, with hazy slow-motion moments between couples as Sixpence None the Richer's track "Kiss Me" plays in the background.

"Do you remember? Of course you remember," the Spanish ad reads in capitalized green text. "What flavor will it have? Will I know what to do? No, no idea. It was awkward. It was relaxed. It was incredible. And it changed everything forever. Just like Coca-Cola Life."
This latest edition to the Coca-Cola family comes on the heels of the company's release of a bottle made entirely of ice.

The new container--only available in Colombia-- is shaped like the traditional glass Coke bottle and has the company's logo etched into the frozen water. The bottle is marketed as being eco-friendly, as it leaves no waste, but critics claim that all the refrigeration needed to make these may cancel out all the environmental benefits --leaving pretty much just a clever marketing gimmick.
A Spanish advertisement for Botello de Hielo (bottle of ice) shows beach-goers enjoying the ice cold beverages on a hot day, and then letting their bottles melt away in the sand.
For now, it looks like both the green and ice varieties of Coca-Cola will stay in South America for the time being.