Uma Thurman's 'Kill Bill' crash could have resulted in 'decapitation,' stunt expert says
The stunt community is standing behind Uma Thurman's recent claim that director Quentin Tarantino forced her into doing a dangerous stunt that went wrong for the 2003 film "Kill Bill."
Thurman wrote in a piece for the New York Times on Saturday that Tarantino would not take "no" for an answer when she expressed reservations about driving the car, which resulted in the actress suffering a concussion.
"The steering wheel was at my belly and my legs were jammed under me," Thurman wrote of the moments after her car skid out of control and slammed into a palm tree. "I felt this searing pain and thought, 'Oh my God, I'm never going to walk again.'"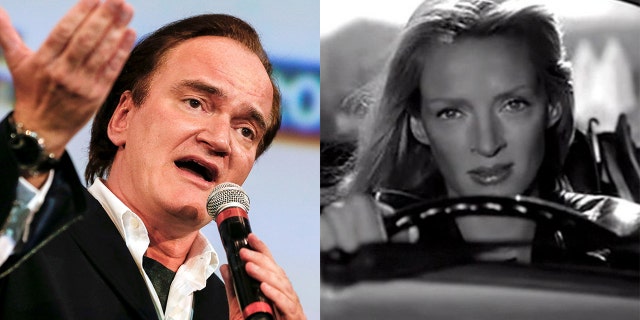 Veteran Hollywood stuntman Andy Armstrong told The Hollywood Reporter of the dangerous stunt, "That could have been a death by decapitation... It was irresponsibility on a mega level."
"The situation as it has been described sounds like a stunt and would be a likely safety violation," a rep for performers' union SAG-AFTRA told The Hollywood Reporter. "In general, only stunt professionals should perform stunts with guidance from a stunt coordinator to ensure a correct and safe performance."
SAG-AFTRA relies on performers to call its safety hotline if they encounter uncomfortable situations on a movie set and, according to The Hollywood Reporter, Thurman did not alert the union.
Thurman alleged that producers Lawrence Bender, E. Bennett Walsh and Harvey Weinstein engaged in a coverup designed to suppress the incident from ever getting out.
Bender told The Hollywood Reporter on Wednesday he deeply regrets that "Uma suffered the pain she has" but claimed he "never hid anything from Uma or anyone else nor did I participate in any cover-up of any kind— and I never would."
According to Thurman, Tarantino refused to get a stunt performer for the scene due to cost. According to stunt performer Melissa Stubbs, the situation with Thurman is "why you need an experienced stunt coordinator."
Tarantino also expressed his remorse for the crash but denied Thurman's allegations that he forced her into performing the stunt.
According to The Hollywood Reporter, the stunt coordinator was not on set the day of the car crash.
"The stunt coordinator was told to stay in his hotel that day, stay home," Armstrong claimed, saying he spoke to the film's stunt coordinator Keith Adams.