Tom Cruise linked to little known actress Yolanda Pecoraro, report says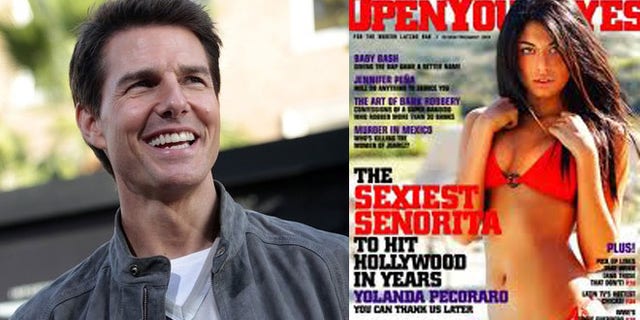 Has Tom Cruise's church set him up with a rebound romance following his surprise split from third wife Katie Holmes?
That's what Radaronline.com is reporting. They say Cruise is being linked to devout Scientologist, and virtually unknown actress, Yolanda Pecoraro.
A former Scientologist said Pecararo is a "Scientology princess, perfect for Tom," the site reports.
Radaronline.com says this wouldn't even be the first go around for the two. According to Andrew Morton's unauthorized Cruise biography, "Tom Cruise: An Unauthorized Biography," Cruise and Pecoraro went on a double date to a soccer match in Spain with David Beckham and Posh Spice back in 2004 after he split from second wife Nicole Kidman, the site claims. Cruise was apparently in the country to open a Scientology Center.
Pecoraro was the covergirl for the October/November issue of the men's magazine For Your Eyes magazine, billed as "the sexiest senorita to hit Hollywood in years." Cruise was also linked to another little known Latina actress around the same time, TV's current highest paid actress, Sofia Vergara.
When contacted by the National Enquirer, Pecoraro did not confirm the status of any relationship with the "Mission Impossible" star one way or another, but did acknowledge she and Cruise had been in contact over the years.
"Yes, I knew and still know Tom Cruise," she said. "And no, I'm not married or engaged."
Pecoraro has been taking Scientology courses since she was 13, the site reports.
Differences she had with Scientology and fears their daughter Suri, 6, was about to start begin her Scientology training were reportedly part of the reason Holmes filed for divorce from Cruise late last month.