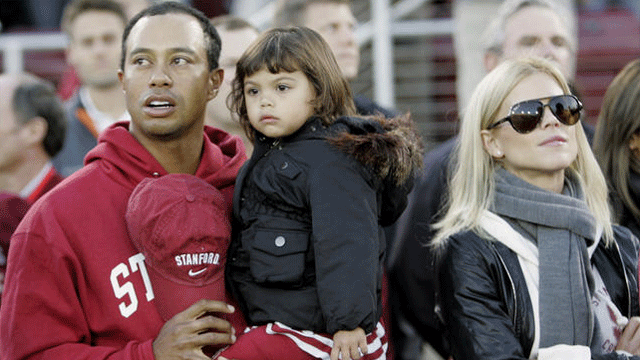 Tiger Woods and his wife Elin Nordegren have avoided contact with the public by hiding out in their family home in a Florida gated community since news of Woods' alleged affairs broke two weeks ago.
Now a source close to Nordegren's family tells Pop Tarts that the two are considering putting even more distance between themselves and Tiger's cheating scandal.
The insider says the couple is planning to leave the country "very soon."
"Elin and Tiger are planning to temporarily move closer to Sweden, possibly to a private island, to get away from it all," the insider said.
SLIDESHOW: Tiger Woods' alleged other women now include two porn stars.
The news comes after Elin's mother Barbro Holmberg, visiting from Sweden to assist her daughter during this trying time, was rushed to Florida's Health Central hospital Tuesday morning after suffering stomach pains. She was released later in the day and reportedly returned to her daughter's house.
Despite the number of women coming forward to claim affairs with Woods, Nordegren's family is hoping that the high-profile couple will somehow work through the scandal, the insider told Tarts.
RELATED: The list of 11 possible paramours linked to Tiger Woods.
"Elin's family couldn't be more devastated," the source said. "But they want [Tiger and Elin] together for the kids' sake."
The family's efforts to keep it together come as more news on Tiger Woods' alleged promiscuous behavior comes to light.
A source told Pop Tarts that Woods was at New York's club The Griffin numerous times during the summer of 2009, where he met up with his first outed alleged mistress, Rachel Uchitel, who worked at the club as a VIP hostess.
RELATED: Alleged mistress Rachel Uchitel: 'I'm not a whore.'
"He was always very flirty as he partied, and kept coming back," a club insider told Tarts. "A few people started to think it was suspicious that Elin was never there."