The Emmy's becomes the Tony's, cuts off A-list stars' speeches and angers viewers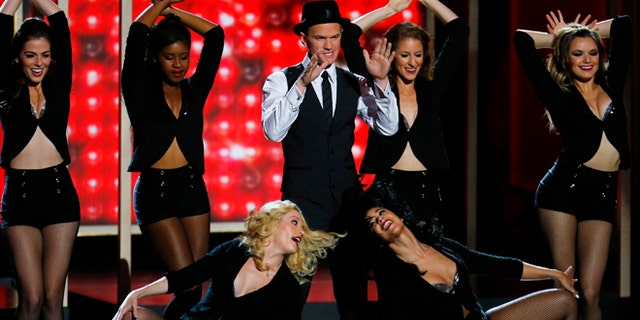 LOS ANGELES – Neil Patrick Harris may be a pro at hosting the Tony's, but at Sunday night's Emmys the theater veteran's song and dance numbers left many less-than-impressed. Critics and viewers alike complained about the musical performances, which took air time away from A-list stars' acceptance speeches.
Claire Danes attempted to give a heartfelt speech after winning Leading Actress in a Drama Series for "Homeland," honoring late show writer Henry Bromell, but she was quickly signaled into silence with the "wrap it up now" music.
Other winners-- including Bobby Cannavale, Stephen Colbert, "Modern Family" director Gail Mancuso and Tony Hale-- were also forced to scurry from the spotlight as the music signaled their speech time was up.
And while the winners were routinely ushered off the stage in a hurry, there was plenty of time allotted throughout the three-hour ceremony for lengthy and oddly placed song and dance numbers.
Harris, who also served as a producer of the 65th Primetime Emmys, led a random disco-beat musical number mid-show with Nathan Fillion and Sarah Silverman, who shimmied around the stage and felt the need to sing her favorite word "vagina."
Sir Elton John performed as a tribute to "Behind the Candlelabra" subject, Liberace, and then there was the long, seemingly random choreographers dance numbers, which was intended to honor shows like "Mad Men," "American Horror Story," "The Big Bang Theory" and "Boardwalk Empire."
The awards show also decided to mark the 50th anniversary of JFK's assassination by bringing Carrie Underwood on stage to sing the Beatles' hit "Yesterday." Her performance was introduced by Don Cheadle who spoke about TV's role in history, highlighting important moments like the former president's death and the Beatles first TV performance.
"It's never really been like this before. The winners work hard all year and it's a huge honor to get an Emmy, they deserve to speak, but then they get cut off in their speech so that they can broadcast all these long toothy dance numbers," one entertainment insider told FOX411 backstage. "It's ridiculous. The production is all wrong."
Television critic and writer Mirren Lee agreed.
"It's about time for all the awards shows to decide if they're about giving out awards or putting on a variety show," she said, also noting that actor's acceptance speeches are hardly riveting either. "But either just put up a list of who won and focus on the song and dance, or maybe send actors to 'awards school' to teach them how not to be so boring."
Folks in the Twitterverse didn't waste time criticizing the show's priorities too.
"This is not the Tony Awards. Another dance number? Ugh," wrote one viewer, another wondered "When did the Emmys become Broadway matinees?" as yet another stated simply: "Save it for the Tonys, Emmys!"