Sharing a name with a celeb: The good, the bad and the ugly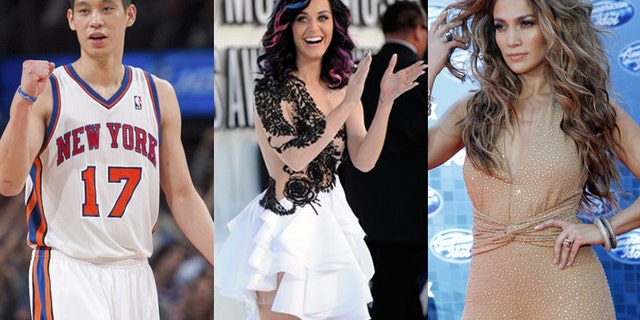 New York Knicks star Jeremy Lin has been center of the attention in recent weeks, but a California man who shares the same name as the NBA's mega-success story has been experiencing some "Linsanity" of his own.
"We are both California, Taiwanese and our birth dates are a day apart," Lin (the non-Knicks one) told FOX411's Pop Tarts column. "I get a ton of random Facebook requests, which gets annoying, and there's a pretty routine script I follow when I meet new people now who learn my name. Other than that, I'm honored to share my name with such an inspirational athlete, and he has given the Jeremy Lin name a lot to give up to."
But other well-known names don't bring such sunny outcomes.
Oregan-based banker George Zimmerman (same name as the man who shot Trayvon Martin) told us he has been getting a lot of stranger "friend" requests and light-hearted jibes about "ruining the family name."
Australian designer Katie Perry almost lost her entire business after the pop star with the same name hit the scene.
"I have my own lifestyles collection called Katie Perry that I started before the pop star had the stage name. But I was sent cease and desist letters two years ago trying to run me out of business. I nearly lost everything," Perry, who was able to keep her self-titled label, added.
"I have wanted to change my name so many times. However, I am also proud of my label and don't see why I have to change."
[pullquote]
Santa Monica-based lawyer Whitney Houston also experienced the negative effects of sharing a name with a star, saying that the attention she has been getting since Houston's death has been "creepy."
"For the first week every phone call I made for business created a 'pause' on the other line. Although I never considered myself a huge fan, I was more moved by her death than I expected to be," she said. "It's an odd sort of connection – sharing a name with a perfect stranger that happens to be a huge star."
On an average day, Houston says at least five to seven people comment on her name, and she's the constant brunt of jokes such as 'crack is whack' and 'how's Bobby?'
Still, she says there is a plus side.
"The funniest story was a trip to Hawaii. I arrived early with my husband to pick up my rental car. My parents arrived some time later to pick up their rental and the place was abuzz with the fact that Whitney Houston had been there to pick up a rental 'in disguise,'" she said.
Houston's experience is much like that of San Diego-based software executive, Michael Jackson, who says he often has his work cut out convincing people that yes, it is his real name and often has to show his ID dozens of times.
"I always say if you are going to make a joke, I'm all for it. However, if you say 'Beat It' every time I see you, it's annoying," he said, adding that the biggest perk was on a Vegas trip ten years ago when he was given VIP services from check-in to car services to club entry to show tickets – in spite of his blonde hair and blue eyes.
Suzanne Summers, co-founder of the boutique PR firm PapeSummers Communications, said her star-studded name has generally been good for business, and a magazine editor even once took a meeting with her because she thought she was of the thigh master variety. The downside?
"I get lewd messages via my Facebook account from creepy Suzanne fans," Sommer said. "I also had a run-in with a Hollywood agent when they thought I was impersonating her, and I do a ton with national broadcast/print publications but I am virtually non-existent via Google because her images and articles trump mine!"
Then there's Hollywood movie publicist Jennifer Lynn Lopez (the full whammy) who receives beautiful flower arrangements, letters from jail and almost received one of Swarovski's custom-made purses for the "El Cantante" premiere while staying at the same hotel during the Toronto Film Festival.
Lopez even once had a night out with a sales person named Sean Combs.
"We walked to a restaurant to have a drink, it happened to be Grammy night, and the other Jlo and Combs were having their Grammy party there," she recalled with a laugh. "We told the people checking ID's to let us in… but they didn't."