Seth Rogen Hosts 18th Annual Alzheimer's Event in Beverly Hills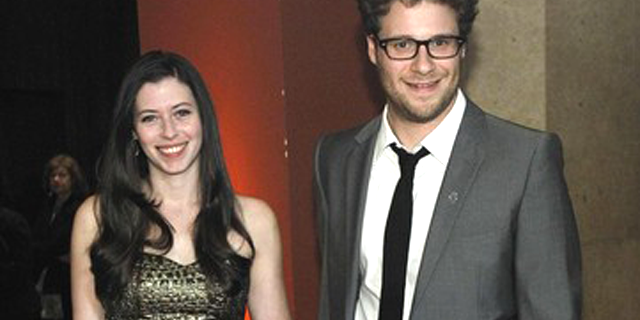 NEWYou can now listen to Fox News articles!
Famed Beverly Hills Courier columnist George Christy gives you an insider's peek into Hollywood's A-list parties and personalities.
"I can't believe that Seth Rogen will be our program host tonight," beamed tablemate Sharon Lawrence. "Quite a coup!"
Seth had arrived with mate Lauren Miller, as Sharon was talking to her husband of seven years, UCLA's Dr. George Apostle, at the Beverly Hilton during the 18th annual Night at Sardi's. To date, the event has raised more than $18 million for the Alzheimer's Association's California Southland Chapter.
Created by Laurie Burrows Grad and husband Peter Grad, the evening sells out, celebrating, as it does, Broadway show tunes – last year's program being the entertaining score from Damn Yankees. Singers and dancers donate their talents to benefit the research for a cure, and last week's dinner amassed another $1.1 million.
Seth Rogen, indeed, served as the engaging emcee (see BHC's front page). Last season, it was Chelsea Handler's turn at the hosting bat, and whoever is pulling strings to snag Seth and Chelsea, congratulations.
Chelsea, by the way, has another Number One bestseller with Chelsea Chelsea Bang Bang dedicated to "my brothers and sisters ... what a bunch of a--holes."
CLICK FOR MORE: Read George Christy's full column in The Beverly Hills Courier.