Sarah Hyland defends wearing Spanx after kidney transplant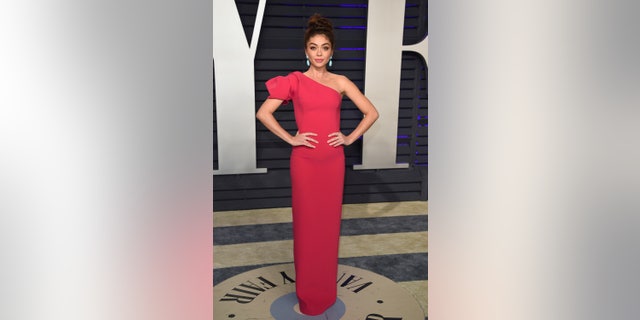 Sarah Hyland is not holding back against critics who shamed her for her wardrobe choice at the Vanity Fair Oscars party.
The "Modern Family" actress received backlash after admitting she wore two pairs of Spanx on the red carpet. Hyland jokingly posted on Instagram, "#funfact I'm wearing TWO pairs of spanx. Why diet? When you can just hide it!" to which she received immediate anger for potentially promoting unhealthy body choices.
'MODERN FAMILY' STAR SARAH HYLAND SHOWS OFF KIDNEY TRANSPLANT SCARS IN BIKINI SELFIE
"Your comment is toxic body shaming. Spanx are unhealthy and so is dieting when you weigh 90 pounds," one user commented. Another user simply noted, "Not a great caption."
While Hyland faced backlash, many fans also jumped to her defense. "If you're trying to hide the bump from your transplant, forget it. I've been trying for years!! Stay healthy," one Twitter user noted. "Someone gets it!!" Hyland responded to the defense.
Hyland has been open in discussing her array of health issues, which include kidney dysplasia which is a condition characterized by cysts and incorrect kidney development. Hyland revealed that she has been suffering from the condition since she was 9 years old.
Hyland had a kidney transplant from her father in 2012 due to the disorder. As the first transplant began to fail, her brother, Ian, stepped up and offered to be Hyland's second donor. According to an interview with Self Magazine, Hyland spent "Christmas break, New Year's, Thanksgiving, my birthday" in the hospital for various treatments.
SARAH HYLAND SAYS SHE WAS 'VERY CLOSE' TO TAKING HER OWN LIFE AMID HEALTH BATTLE
In an interview with Ellen DeGeneres, Hyland expressed having suicidal thoughts amid all the health issues she faced. "At the time I was 26, but after 26, 27 years of just always being sick and being in chronic pain every single day and you don't know when you're going to have the next good day, it's really, really hard."
What many may not realize is that Hyland sports a bulge in her lower abdomen as a result of the kidney transplants, which may be a possible reason for her doubling down on Spanx.
Hyland was quick to respond to criticism on Twitter, stating, "When you have two kidney transplants and are on steroids for life get back to me."