Ruben Aguirre – aka Profesor Jirafales from 'El Chavo del 8' – dead at 82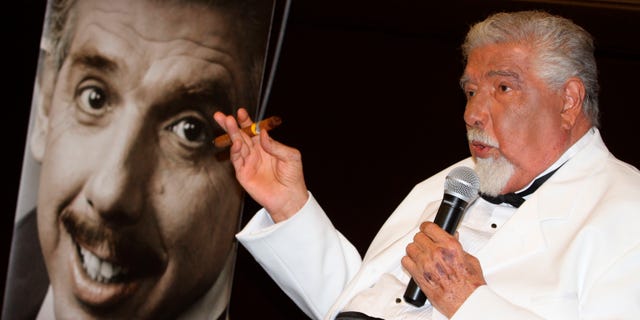 NEWYou can now listen to Fox News articles!
Rubén Aguirre – a Mexican actor who played a leading role in the beloved TV show from the 1970s and '80s, "El Chavo del Ocho" – passed away on Friday, Televisa announced on Twitter.
Better known by the name of one of his most famous characters, Profesor Jirafales, Aguirre died at age 82 after years of struggling with diabetes and other health issues.
For nearly three decades, Aguirre played the role of the short-tempered teacher who was constantly teased by his students on the popular Mexican skit comedy show.
Actor Edgar Vivar, who portrayed the character of Señor Barriga, lamented the death of his former colleague.
"My favorite teacher, rest in peace ... Today, my great friend Rubén Aguirre depart from this plane. I'll miss you a lot," he wrote on his Twitter account.
"El Chavo del Ocho" was a widely successful show created by comedian and actor Roberto Gómez Bolaños, who is better-known as Chespirito.
Reruns are still shown in multiple countries in Latin American and on Spanish-language television in the United States. Many Latin Americans, living under dictatorships during the height of the show, found his underdog triumphs in the face of authority heroic.
Chespirito warmed the hearts of millions with a comedic style far removed from the sexual innuendo and obscenity-laced jokes popular today. In a career that started in the 1950s, he wrote hundreds of television episodes, 20 films and theater productions that drew record-breaking audiences.
Chespirito's Chavo, a freckled and mischievous orphan who lived in a barrel, made his way to the homes of Latin America and beyond with his striped shirt, frayed cap and his endless fights and misunderstandings with Don Ramón, Quico, La Chilindrina, Doña Florinda – both played by Florinda Meza, who later became his wife – La Bruja del 71, and many more characters that painted a benign picture of Mexico's working class in the 1970s and '80s.
With reporting by the Associated Press.