Royal wedding's Bishop Michael Curry wows at Prince Harry and Meghan Markle's ceremony with sermon on love
NEWYou can now listen to Fox News articles!
Amidst the staid decorum of British royal traditions at the Windor Castle wedding of Prince Harry and Meghan Markle, Bishop Michael Curry's rousing sermon on love was a welcome dose of modernity.
Curry, the first African-American leader of the Episcopal Church in the U.S., delivered a robust and impassioned call for love in all its forms that harnessed everything from the Civil Rights Movement and Dr. Martin Luther King, Jr. to America's history of slavery and the teachings of Jesus Christ.
The wedding address for the Duke and Duchess of Sussex clocked in at 14 minutes and Curry, with the cadences of a confident preacher and the enthusiasm of a man who cherishes his life's work, took the guests — countless celebrities, fellow royals, regular Britons and millions watching globally — on a journey filled with emotion.
"We must discover the power of love, the redemptive power of love," Curry said. "And when we discover that, we will be able to make of this old world a new world. Love is the only way."
The bishop went on to explain that our lives are created in love, that God is love and that there is power in utilizing love to change the world. Curry's energetic and powerful address was a far cry from typical, quiet British norms.
MEGHAN MARKLE, PRINCE HARRY BEGIN LIFE AS A MARRIED COUPLE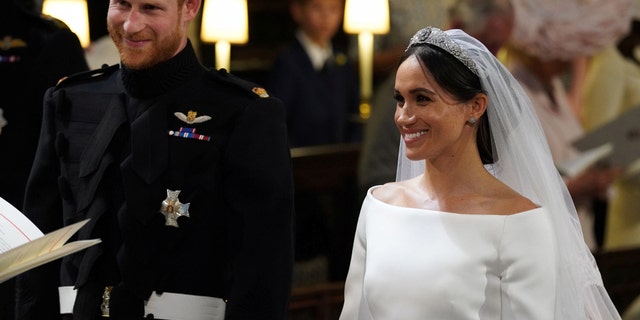 "Someone once said that Jesus began the most revolutionary movement in human history: a movement ground on the unconditional love of God for the world and a movement mandating people to live and love," Curry explained.
The Episcopal leader reminded guests that in America, slaves would sing uplifting, hopeful spirituals, even amidst horrific circumstances. One was called "There Is a Balm in Gilead."
As Curry put it: "One of the stanzas explains why: It says, if you cannot preach like Peter, you cannot pray like Paul, you just tell the love of Jesus, how he died to save us all. That's the balm in Gilead. This way of love is the way of life. They got it."
In a short time, Curry managed to weave together the romantic love of Harry and Meghan ("Two young people fell in love, and we all showed up"), Jesus' love for the world ("He gave up his life, he sacrificed his life for the good of others, for the well-being of the world, for us,") and the power of love to remake the world ("When love is the way, we will let justice roll down like a mighty stream, and righteousness like an ever-flowing brook,").
KENSINGTON PALACE RELEASES DETAILS, SKETCHES OF MEGHAN MARKLE'S WEDDING DRESS
Most wedding watchers on social media praised the speech — while the royals inside the 1,000-year-old chapel seemed to take it in with very British facial expressions.
In order to make of this "old world" something new, Curry said, we need to discover the redemptive power of love.
"When love is the way, poverty would become history. When love is the way, the earth will be a sanctuary. When love is the way, we will lay our swords and shields down by the riverside to study war no more. When love is the way, there's plenty of room for all of God's children.