'Roseanne's' pro-Trump reboot draws massive audience for politically-charged premiere
The typically liberal ABC brought back "Roseanne" after a 20-year hiatus on Tuesday to a massive audience, with a 5.1 rating in the key demo of adults age 18-49 and 18.1 million viewers, according to The Hollywood Reporter.
The show's revival proved that the Conners are not immune to the changing political times. The show, starring a pro-Trump title character, was "the highest-rated regularly-scheduled scripted show of the last few seasons, as well as the highest-rated sitcom in recent memory," according to The Hollywood Reporter.
The trade magazine wrote that "Roseanne" dominated every other program on broadcast television on Tuesday night.
A theme of the premiere was that Roseanne and Aunt Jackie hadn't spoken since the 2016 election. Although President Donald Trump and Democratic candidate Hillary Clinton are never mentioned by name, it came out that Jackie supported the latter while Roseanne wanted to see what the former had to offer. Darlene hoped to mend their relationship by inviting Jackie over, but it proved tougher than she realized when Jackie shows up ready to debate.
During the episode, Roseanne referred to Jackie as a "snowflake," and eventually Jackie breaks down and admits that Roseanne's constant questioning of the Democratic candidate put seeds of doubt in her head. She even admits to voting for Jill Stein and blames herself for being part of the reason Trump got elected.
The two found common ground when Jackie realized that Roseanne is more worried about her family and her bottom line, which made Trump a reasonable option.
The show's star Roseanne Barr revealed to reporters back in January it was important to her to showcase her character as a pro-Trump American.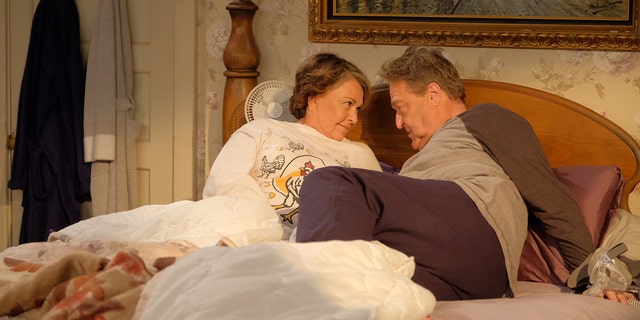 "It's just realistic," she explained. "I have always … attempted to portray a realistic portrait of the American people and working class people. And, in fact, it was working class people that elected Trump so I felt that was very real and something that needed to be discussed."
Having a fictional character who supports Trump is rare these days, and ABC has been criticized for being too liberal in the past. The network's chief anchor, George Stephanopoulos, was forced to recuse himself from moderating presidential debates for not disclosing a substantial donation to Clinton's charitable organization back in 2015
ABC's entertainment division also has come under fire for canceling Tim Allen's "Last Man Standing," which focused on conservative views, although ABC president of Entertainment Channing Dungey told reporters that "politics had absolutely nothing to do with it." The network also has been criticized for several shows that mock traditional values such as "The Real O'Neals" which made fun of Irish Catholics and "When We Rise" which was widely criticized for portraying Middle America as homophobic.
This all comes as ABC's "Jimmy Kimmel Live" has transitioned from a late-night comedy program to a talk show that frequently pushes liberal and anti-Trump talking points. During a recent shareholder meeting for ABC's parent company, Disney, a frustrated investor told CEO Bob Iger that Disney-owned ESPN had become a "24/7 anti-Trump tirade channel."
Fox News' Tyler McCarthy contributed to this report.