Report: Miss Nevada Jade Kelsall in raunchy pic with porn star Ron Jeremy; pageant says crown is safe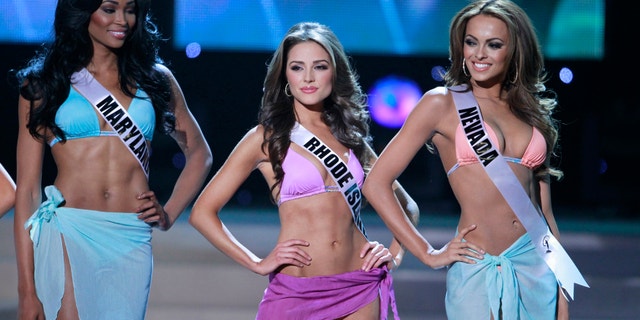 It seems the reigning Miss Nevada USA Jade Kelsall may be royally in trouble because of a racy photo of the beauty queen that reportedly surfaced on Facebook last week.
The photo, which was posted on Thursday but has since been removed, showed Kelsall posing with adult film star Ron Jeremy and simulating a sexual act, according to the Las Vegas Review-Journal.
Two sources identified Kelsall in the photo, according to the Journal, and there was speculation the risqué photo could potentially lead to her dethroning.
But the rep for Miss Nevada USA, Shanna Moakler, says Kelsall can rest easy.
"The Miss Nevada USA organization stands behind Jade Kelsall 100 percent and has no intentions of removing her crown," Moakler told FOX411. "There is no photo considered salacious or scandalous to our knowledge, and we are saddened to see a poor attempt to berate a young woman who has represented her state so proudly."
Kelsall's alleged incident would be just the latest in a string of scandals that have plagued the Miss Universe organization in recent years. In December 2006, Miss Nevada USA Katie Rees lost her crown when photos of her surfaced simulating sexual acts on women in a Florida nightclub.
Similiarly, in 2008, sexual photos of Miss Washington USA Elyse Umemoto appeared, but in Umemoto's case, the organization decided not to dethrone the beauty queen.
Kelsall, 26, is originally from Berlin, New Jersey, according to the Miss Nevada website, and she spent time modeling in New York City before moving to Nevada. She is currently the brand ambassador for Top Shop and was recently in Los Angeles for the "Master Chef" tryouts, according to her Twitter feed.