Report: 'Diva' 'Good Morning America' newsreader Josh Elliot wants George Stephanopolous' job, report says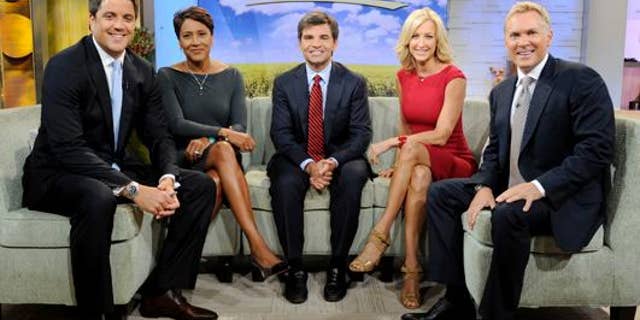 While "Good Morning America" is riding high in the ratings, news reader Josh Elliott is creating waves on the set.
Sources tell The Post's Page Six that current show "golden boy" Elliott is a "diva" when the cameras of the ABC morning show are not on him.
One show insider said ambitious Elliott "has made it fully clear he wants George Stephanopoulos' job, and is wholly obvious about it. He makes snide comments."
But our source said, "George just ignores it. George is a consummate professional and isn't threatened by Josh."
The insider said the great on-camera chemistry among co-anchors Stephanopoulos, Robin Roberts, Lara Spencer and Elliott has helped them torch NBC rival "Today" in the ratings. But despite the victory, "Josh's behavior off camera is totally toxic for the team, and it has to stop."
When The Post asked about Elliott's alleged diva behavior, "GMA" senior executive producer Tom Cibrowski said, "Nothing could be further from the truth. Josh is the ultimate team player. He has incredible passion for 'GMA' — he has helped us get to No. 1 and has enormous respect for his co-anchors."
Go to The Post for more of this story.