Paul McCartney to rock Nirvana at 12-12-12 Sandy benefit concert: How to watch and give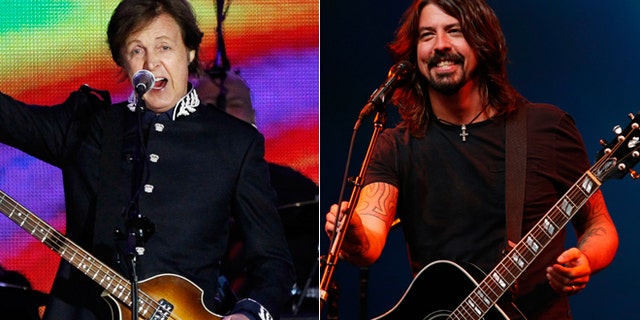 NEWYou can now listen to Fox News articles!
NEW YORK – Sir Paul McCartney will front a Nirvana reunion tonight, replacing late singer Kurt Cobain, according to The Sun.
The sensational gig will see the surviving members of the grunge band together for the first time in 20 years.
And former the Beatle will sing with them as they play a new song at the star-filled charity concert in New York, which will also feature top artists like Bruce Springsteen, Alicia Keys, The Rolling Stones and Jon Bon Jovi.
The musicians are coming together for the 12-12-12 concert for Sandy relief, which benefits the Robin Hood Foundation. Concert producer John Sykes told Reuters the concert has already raised $32 million through ticket sales and sponsorships.
He said the concert features "the greatest lineup of legends ever assembled on a stage."
So it's no surprise tickets for the all-star show sold out within minutes of their release last week. Producers urged fans who don't already have tickets not to buy them through brokers like StubHub, where people have been trying to sell seats at a price higher than the list prices of $150 to $2,500. As of today, tickets on StubHub were listed for up to $5,700.
Instead, 34 television networks have agreed to air the benefit, which will also feature a live telethon so viewers at home can donate to the storm relief fund.
Channels like AMC, VH1 Classic and the Cooking Channel will air the show. And for fans who would rather catch the concert online, AOL.com, Foxmoviechannel.com, YouTube.com and many more websites will also be live streaming it.
And finally, for viewers who'd like a more epic experience, select movie theaters across the country will play the concert.
The show, which will open with Bruce Springsteen and the E Street Band at 7:30 p.m., is expected to last until Paul McCartney closes at around midnight.
Viewers who wish to donate to the Robin Hood Relief fund can do so by calling in during the show, and they may even end up taking to a celebrity.
"Beginning at 7:30 p.m. sharp at the start of the live concert, a phone bank will be on-site at Madison Square Garden where musical artists and celebrity participants will take donations via phone over the course of the evening," Clear Channel media said in statement. "Viewers from around the world will have the opportunity to call-in to help donate to the Robin Hood Relief Fund."
Participating celebrities include Katie Holmes, Tony Danza, Jamie Foxx, Blake Lively.
The Associated Press contributed to this report.