'My Three Sons' big brother Don Grady dies at 68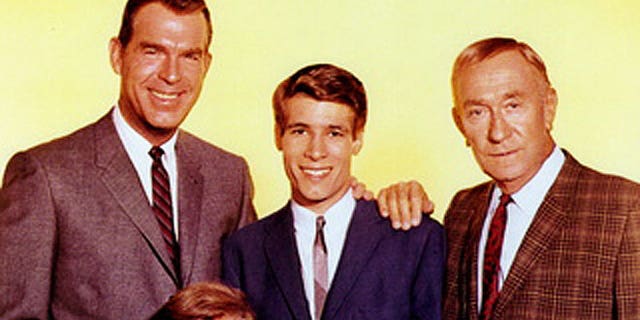 THOUSAND OAKS, Calif. – Don Grady, who was one of television's most beloved big brothers as Robbie Douglas on the long-running 1960s hit "My Three Sons," died Wednesday. He was 68.
His "My Three Sons" co-star Barry Livingston, who played youngest brother Ernie, confirmed Grady's death to The Associated Press. Livingston said Grady had been suffering from cancer and receiving hospice care at his home in Thousand Oaks, Calif. But the exact cause and place of death were not immediately clear.
"It's the oldest cliche in the world when TV brothers start referring to each other like biological brothers, but he was the oldest, and somebody I looked up to and learned from a great deal about life," Livingston said.
Born in San Diego as Don Louis Agrati, Grady had a brief stint singing and dancing on "The Mickey Mouse Club" starting at age 13.
Click here for more on the life and career of Don Grady
But he was best known by far as one of Fred MacMurray's "My Three Sons" on the series that ran on ABC and later CBS from 1960 to 1972.
The popular show, which featured MacMurray as a widowed aeronautical engineer struggling to raise three older boys, was among the longest running family sitcoms of all time with 380 episodes.
In the show's earlier years Douglas was actually the middle brother, with Tim Considine playing the oldest, Mike, and Stanley Livingston playing the youngest, Chip. When Considine departed, Barry Livingston became the adopted "third" son, and Grady became the cool, handsome and assured eldest brother that much of America adored.
A musical prodigy from a young age, Grady appeared with a band, the Greefs, in the series, and in real life played drums for The Yellow Balloon, who had a minor hit with a self-titled song in 1967.
He made a handful of guest appearances on TV series in the 1970s and 1980s, but worked primarily as a musician and composer, writing the theme for "The Phil Donahue Show" and music for the Blake Edwards film "Switch" and the popular Las Vegas show "EFX," a showcase for "Phantom of the Opera" star Michael Crawford.
"The one real through-line in his life was music," Livingston said. "I would think Don would love to be remembered for his great music as much as a teen idol and television icon."