Michelle Wolf says Trump 'doesn't have a big enough spine to attend' White House Correspondents' Dinner
Comedian Michelle Wolf, who made headlines last year after her controversial performance at the 2018 White House Correspondents' Association dinner, gave her thoughts on President Trump's announcement that he was skipping the event for the third year in a row.
Wolf, 33, told Variety during the Power of Women NY event presented by Lifetime Friday, that Trump is probably not attending the April 27 press dinner because "can't handle being made fun of." Audi a premiere sponsor of the event while Shea Moisture, iHeart Media and Icelandic Glacial are additional sponsors.
"He's probably just really busy," the comedian said of the commander in chief. "You know, he's got to golf. And honestly I don't know if anyone really wants to watch him eat, so I think it's for the best probably. You gotta love someone that just can't handle being made fun of."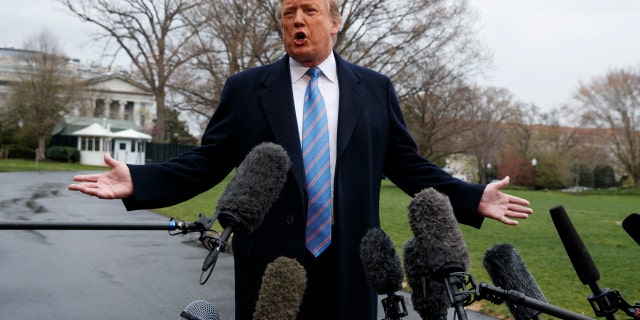 When asked if she thinks Trump should attend the event, which is a fundraiser for college scholarship where politicians, journalists and celebrities mix, Wolf said he should 'man up.'
COMEDIAN MICHELLE WOLF'S JOKES FALL FLAT, OR OFFEND, AT DC DINNER
"I think he doesn't have a big enough spine to attend," she told Variety. "If a president can't take someone making fun of them, I don't really care about them."
Trump announced Friday that he'll skip the "boring" and "negative" dinner. He said he will hold one of his signature political rallies instead. This year, organizers decided to scrap the usual format featuring a comedian and instead are having Pulitzer Prize-winning author Ron Chernow speak. Chernow wrote the biography about founding father Alexander Hamilton that inspired the hit Broadway show "Hamilton."
The White House Correspondents' Association decided to shift to a featured speaker instead of a comic after a sharply anti-Trump performance last year by Wolf that some believed was too pointed against White House press secretary Sarah Sanders and other White House staff. The jokes aimed at Sanders prompted many to call out Wolf for attacks on Sanders' job performance, appearance and even her Southern roots.
"I actually really like Sarah. I think she's very resourceful," Wolf said at last year's event. "She burns facts and then she uses that ash to create a perfect smoky eye. Maybe she's born with it, maybe it's lies. It's probably lies."
MICHELLE WOLF: WHITE HOUSE CORRESPONDENTS' ASSOCIATION 'COWARDS' FOR DITCHING COMEDIANS IN 2019
"I'm never really sure what to call Sarah Huckabee Sanders," the comedian continued. "Is it Sarah Sanders? Is it Sarah Huckabee Sanders? Is it Cousin Huckabee? Is it Auntie Huckabee Sanders? Like, what's Uncle Tom but for white women who disappoint other white women?"
When it was announced that the association would ditch comedy for a speaker, Wolf called them "cowards."
"The @whca are cowards. The media is complicit. And I couldn't be prouder," Wolf tweeted at the time.
While Trump has not attended the dinner as president, he has gone in the past. He was famously mocked by President Barack Obama at the 2011 dinner.
Fox News' Brian Flood and the Associated Press contributed to this report.