Meghan Markle's mother Doria Ragland says meeting Queen Elizabeth was her royal wedding highlight
NEWYou can now listen to Fox News articles!
There were many highlights at Meghan Markle and Prince Harry's royal wedding celebration, but for Markle's mother, Doria Ragland, there was one moment in particular that stood out.
"Doria is saying the biggest highlight of the wedding, of course after watching her daughter say 'I do' to the man she loves, was meeting the queen," a source revealed to Us Weekly. "It would have been extremely intimidating for anyone, but Meghan and Harry really did a marvelous job of preparing her [with] what to expect."
The source then added that Prince Harry had also shared with Ragland "numerous stories about the queen as a grandmother and what she [means] to him."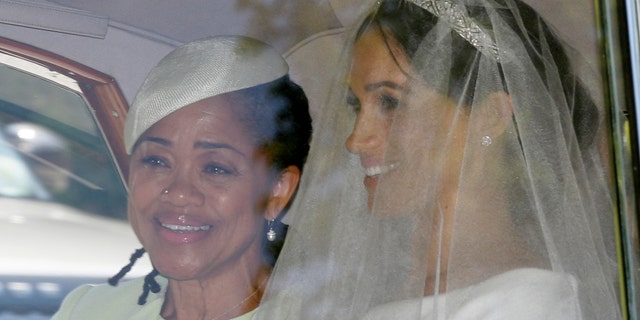 Prior to the royal wedding, Ragland met Queen Elizabeth II for tea with her daughter at Windsor Castle. But before meeting the queen, Markle's mother had a formal meet and greet with the rest of the royal family including Prince Charles, Duchess Camilla, Prince William and Duchess Kate.
On the day of the royal wedding, the 61-year-old mother was photographed with her daughter riding in the royal family's vintage Rolls Royce on their way to St George's Chapel in Windsor Castle, garbed in a lime green Oscar de la Renta ensemble that mimicked the queen's similar green outfit.
A few days before the royal wedding, it was reported that the yoga-instructor and social worker quit her job at a Los Angeles mental health clinic to pursue her dream of opening her own practice.
"Doria [Ragland] is no longer working at the mental health clinic … It was Doria's decision to leave," a source told Us Weekly. "She has talked about starting her own private practice, focusing on working with elderly patients."
And while Ragland has been welcomed by Markle's now royal side of the family, her father Thomas has still not met the royal family as he was unable to attend the May 19 nuptials because he had surgery just a few days prior.