Meghan Markle's co-star Jason Sudeikis says he saw royal status 'coming a mile away'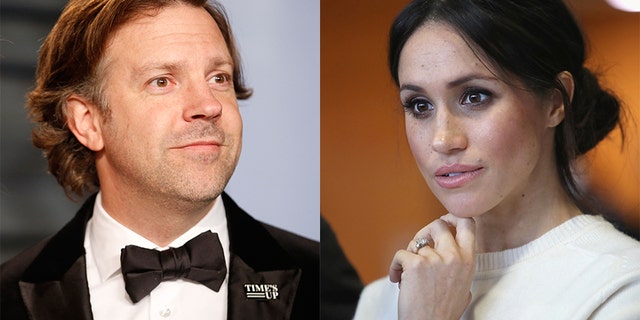 NEWYou can now listen to Fox News articles!
Who knew the pretty FedEx girl would one day be a Duchess? Apparently, Jason Sudeikis!
The 42-year-old actor spoke with ET at the premiere of his new film, "Kodachrome," on Wednesday.
Sudeikis starred in the 2011 comedy "Horrible Bosses," and when we played him a brief clip of Meghan Markle's cameo in the film, he recognized it immediately.
"I saw it coming a mile away. I gotta be honest with you," he joked of Markle's soon-to-be royal status. "She was regal in that moment, and it seemed like she's only gotten better at it."
Jokes aside, Sudeikis noted of his former co-star, "It was great. She was very sweet."
Markle, of course, is preparing for her May 19 royal wedding to Prince Harry in Windsor, England, and has been very busy with royal engagements over the past few months ahead of officially stepping into her role as the Duchess of Sussex.
Sudeikis said he's not planning to get up early to watch the royal nuptials, but noted, "My mom will, I bet."
The versatile actor is promoting his touching family drama, "Kodachrome," which is being released on Netflix on April 20.
He walked the premiere's red carpet with his stunning fiancee and mother of his two children, Olivia Wilde.