Meghan Markle, Prince Harry reveal proposal details, recall falling in love 'incredibly quickly'
Prince Harry and Meghan Markle met on a blind date, and he proposed last month over a roast chicken dinner, the pair revealed on Monday.
The couple shared details about the night they got engaged in their first interview with BBC since the announcement. The 36-year-old actress said they were having an ordinary night and "trying to roast chicken" when the prince proposed.
"It was just an amazing surprise," Markle told the BBC. "It was so sweet and natural and very romantic, he got on one knee."
Harry added, "She didn't even let me finish."
PRINCE HARRY IS ENGAGED TO MEGHAN MARKLE, KENSINGTON PALACE SAYS
Harry and Markle, who are expected to wed next spring, recalled meeting through mutual friends in July 2016. They said they knew very little of each other before then. Markle recalled the only thing she asked her friend about Harry was, "Is he nice?" Harry revealed he had never even heard of the American actress or about the show, "Suits," where Markle is best known for her role as Rachel Zane.
"I was beautifully surprised when I walked into that room and saw her," Harry said. "I was like, 'I'm really going to have to up my game here.'"
That night led to a five-day camping trip in Botswana three to four weeks later where they got to know each other. Harry added he felt like the "stars were aligned."
"The fact that I fell in love with Meghan so incredibly quickly was confirmation to me that all the stars were aligned," Harry told the BBC. "This beautiful woman just tripped and fell into my life, I fell into her life. I know that she will be unbelievably good at the job part of it as well."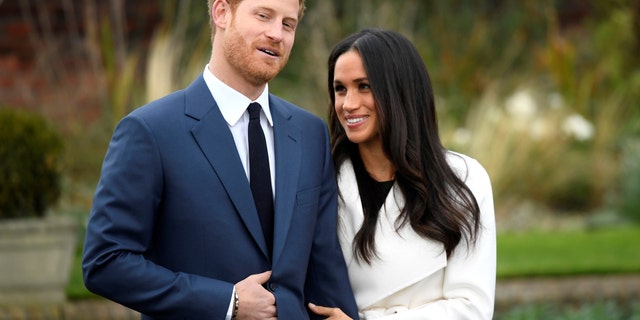 Markle revealed she is "transitioning" out of her acting career, confirming she will not be returning to the eighth season of "Suits." The future duchess also fueled rumors about her departure when she moved out of her Toronto home and headed to London last week. Though she will be leaving acting behind, Markle said she will be moving "into the role" of being part of the royal family.
"I'm excited to really get to know more about the different communities here and smaller organizations that are working on the same causes that I've always been passionate about," Markle said. "I don't see it as giving anything up. I see it as a change. It's a new chapter."
HERE'S THE LINE OF SUCCESSION TO THE BRITISH THRONE
Markle said it was "incredible" to meet Queen Elizabeth II.
Markle told the BBC, "It's incredible, I think, you know, to be able to meet her through his lens, not just with his honor and respect for her as the monarch, but the love that he has for her as his grandmother."
"All of those layers have been so important for me so that when I met her I had such a deep understanding and of course incredible respect for being to have that time with her," she added.
When asked about their plans to start their own family, Harry replied: "One step at a time, hopefully we'll start a family in the near future."
MEGHAN MARKLE'S ENGAGEMENT RING FROM PRINCE HARRY HAS SPECIAL CONNECTION TO PRINCESS DIANA
Harry also spoke about his late mother Princess Diana and how she would be "over the moon, jumping up and down" knowing he was engaged to Markle. The future royal also has "something old" added to her engagement ring, designed by Harry himself — two diamonds from Diana's jewelry collection. The center stone is from Botswana, where they camped early in their relationship.
"The ring is — is obviously yellow gold because that's... her favorite and the main stone itself I sourced from Botswana and the — the little diamonds either side are from my mother's jewelry collection to make sure that she's with us on this — on this crazy journey together."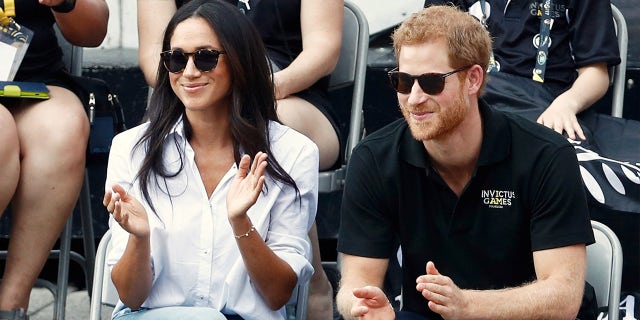 "It's days like this I really miss having her around," he said.
"Not being able to meet his mother, it's so important to me to know that she's a part of this with us," Markle also said.
The interview came hours after Kensington Palace announced the high-profile couple was engaged. They made their first public appearance shortly after, with Harry donning a blue suit jacket and Markle wearing a white coat and flashing her diamond ring.
Their relationship was first confirmed last November when the palace issued a statement but also condemned the "outright sexism and racism" in some online comments. Harry also said some articles with "racial undertones," alluding to Markle's mixed-race heritage, had crossed the line.