Meghan Markle cradles baby bump in cape evening gown at Fiji state dinner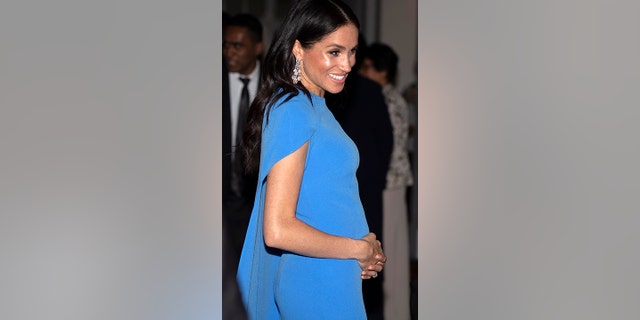 Meghan Markle is already looking like she is ready to be a mom after she was snapped cradling her budding baby bump at the Fiji state dinner with her husband, Prince Harry.
On Tuesday night, the mother-to-be stunned in an azure blue, cape-sleeved gown. The Duchess of Sussex played tribute to the host country by sporting the Fiji blue ensemble, according to Entertainment Tonight. Along with her baby bump, the Duchess accessorized her look with a glimmering pair of diamond, chandelier earrings.
Prior to the evening's soiree, the Duke and Duchess were welcome to the island of Fiji on the eighth day of their royal tour, in the same way Harry's grandmother, Queen Elizabeth II, and her husband, Prince Phillip, were welcome to the island country in 1954.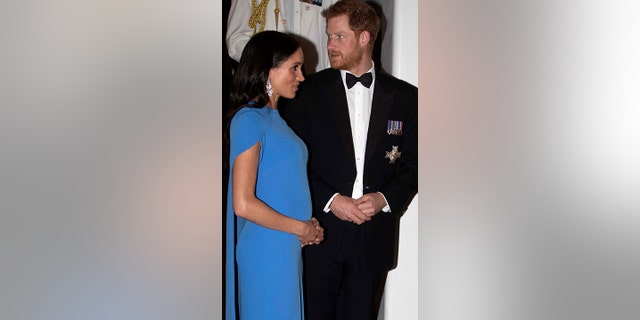 But Meghan isn't the only one excited about parenthood.
On Saturday, the soon-to-be dad gushed about his wife and their baby news during his speech at the Invictus Games Opening Ceremony in Sydney, Australia.
"Thank you for the welcome you have given Meghan and I over the last few days," Harry told the Sydney Opera House crowd. "I have been so proud to be able to introduce my wife to you and we have been so happy to be able to celebrate the personal joy of our newest addition with you all."
In addition to Harry's baby shoutout to Meghan on Saturday, the 37-year-old Duchess revealed that she and her husband have also been thinking about future baby names.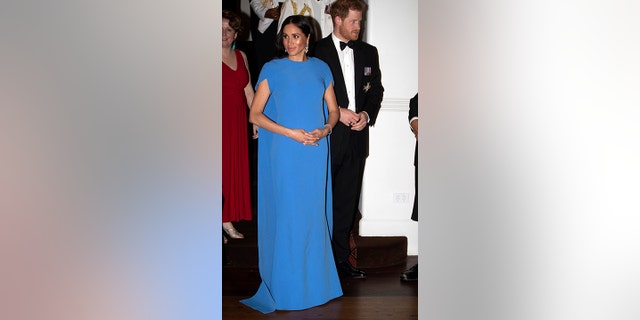 While visiting Melbourne, Australia, last week, Prince Harry and his wife were quizzed by Melbourne school children during a ride on the city's local tram. According to Entertainment Tonight, while aboard the tram, a 12-year-old student by the name of Charlie Wolf asked the newly pregnant couple if they had thought of any names for their unborn child.
Meghan reportedly replied to Wolf and said, "We've been given a long list of names from everyone. We're going to sit down and have a look at them."
The royal couple will spending the week in Fiji and will travel next to Tonga.